Here are some of the activities of various UU organizations in Indian Country here at home and indigenous communities abroad.
---
"We focus our work on intersecting roots of injustice to defend rights at risk due to criminalization and systemic oppression of people based on their identity."
Current Initiatives:
Climate-forced Displacement:  Climate change poses grave dangers to the world's most vulnerable populations. Increasing temperatures and variable precipitation are intensifying natural disasters, melting glaciers, rising sea levels, intensifying droughts, and causing widespread flooding.

---
UUMFE is firmly rooted in the long history of our faith's prophetic action on environmental and human rights issues.
Current Initiatives:
Front-Lines Solidarity:  An environmental justice framework centers the needs, voices, and leadership of those who are most disproportionately affected by environmental degradation and climate change, including Indigenous and low-income peoples, people of color, island nations, and youth.
Climate Change:  There's no denying that climate change is happening, and is human-caused. There's also no denying that those on the front-lines of the climate crisis are among those who have contributed least to creating the problem, such as island nations, Indigenous peoples, and those who directly depend on the land for sustenance.

---
Create Climate Justice Net was created to give UU climate and environmental  justice activists and coalition partners a valuable tool for education, collaboration, and organizing.
Current initiative:  Direct Support of Indigenous Water Protectors
This page is committed to equipping Unitarian Universalists and our collaborators to make good on promises (below, 1 – 5) of the 2018 Action of Immediate Witness. See complete statement at https://www.uua.org/action/statements/we-are-all-related-solidarity-now-indigenous-water-protectorsAs Unitarian Universalists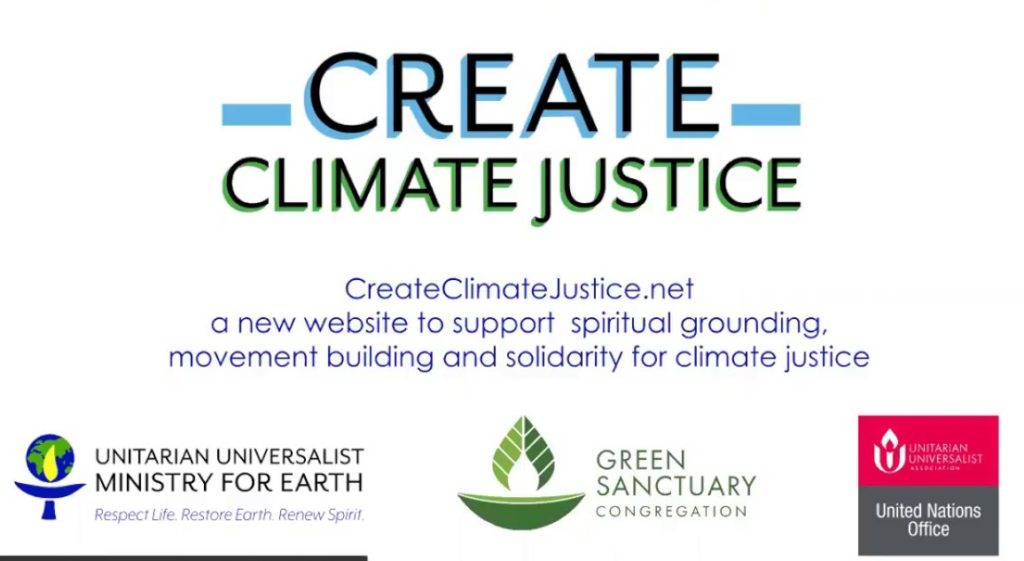 ---
Canadian Unitarian Universalists (UUs) are committed to the journey toward truth, justice, healing, and reconciliation between Indigenous and non-Indigenous peoples, and to putting into practice the principles set forth in the United Nations Declaration on the Rights of Indigenous Peoples.
The Truth and Reconciliation Commission of Canada (TRC) was established by the federal government in 2008. Its mandate was to inform all Canadians about what happened in Indian Residential Schools, documenting the truth of survivors, families, communities and anyone personally affected by the Indian Residential School experience.