2020 Paddle to Snuneymuxw,
Nanaimo, BC!!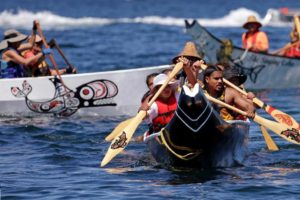 The Canoe Journey is an annual event in which Pacific Northwest Tribes travel the ancestral highways of their cultures.  Tribes from Oregon, Washington, Alaska and British Columbia have participated and hosted landings.  The landings are events that occur along the canoe journey route

The Canoe Journey began in 1989, part of the 100th anniversary of Washington Statehood in which the state and indigenous governments signed the Centennial Accord, recognizing indigenous sovereignty.  Canoe Journeys have organized up and down the whole Pacific Northwest Coast and being hosted by many different Northwest Native communities.
In the past several years, UU congregations throughout the region have been finding ways to work with and support Pacific Northwest Tribes in the U.S. and Canada in these journeys.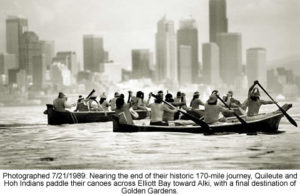 Recent Canoe Journeys can be followed on the Tribal Canoe Journeys Facebook page.
1989: Paddle to Seattle, WA
Emmett Oliver's 1989 Paddle to Seattle
1993: Paddle to Bella Bella, BC Qatuwas
1994: Youth Paddle (Olympia, WA, with the 2nd Cedar Tree Conference)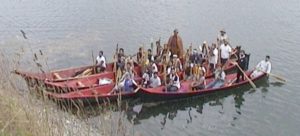 1995: Full Circle Youth Paddle, in Puget Sound, Washington
1996: Full Circle Youth Paddle, in Puget Sound, Washington
1997: Paddle to LaPush, WA
1998: Paddle to Puyallup, WA
1999: Paddle to Ahousaht, BC
2000: Paddle to Songhees, BC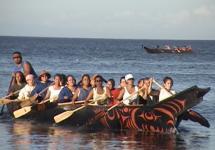 2001: Paddle to Squamish, BC
2002: Paddle to Quinault, Taholah, WA
2003: Paddle to Tulalip, WA
2004: Paddle to Chemainus, BC
2005: Paddle to Elwha, Port Angeles, WA
2006: Paddle to Muckleshoot, Auburn, WA
2007: Paddle to Lummi, WA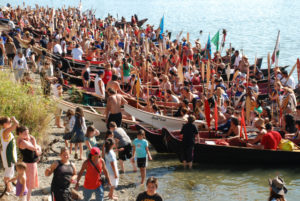 2008: Paddle to Cowichan, Cowichan Bay, BC
2009: Paddle to Suquamish, WA
2010: Paddle to Makah, Neah Bay, WA
2011: Paddle to Swinomish, La Conner, WA
2012: Paddle to Squaxin Island, Kamilche, WA
2013: Paddle to Quinault at Taholah, WA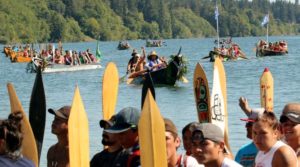 2014: Paddle to Bella Bella, Qatuwas Festival, at Bella Bella, BC on Campbell Island, BC
2015: Various locations in the Salish Sea, BC and WA
2016:  Paddle to Nisqually, Olympia, WA
2017:  We Wai Kai Nation and Wei Wai Kum Nation, Campbell River Spit, BC.
2018:  Paddle to Puyallup, Tacoma, WA
2019:  Paddle to Lummi, Bellingham, WA
2020 Paddle to Snuneymuxw,
Nanaimo, BC!!
---
By Brian Contreras, Seattle Times July 18, 2019 "The canoes are coming!" a young girl cried from the crowd of onlookers. "They're right there!" The 20-odd canoes approached Alki Beach  just before noon Thursday as part of the "Paddle to Lummi" — or Sqweshenet Tse Schelangen ("honoring our way of life") — a journey through the Salish Sea toward the Lummi Nation, this year's host. During the annual Tribal Canoe Journey, tribes and nations from throughout the Pacific Northwest join up with one another on the way toward Lummi, starting from different points but picking up new canoes along the way. Read more here.