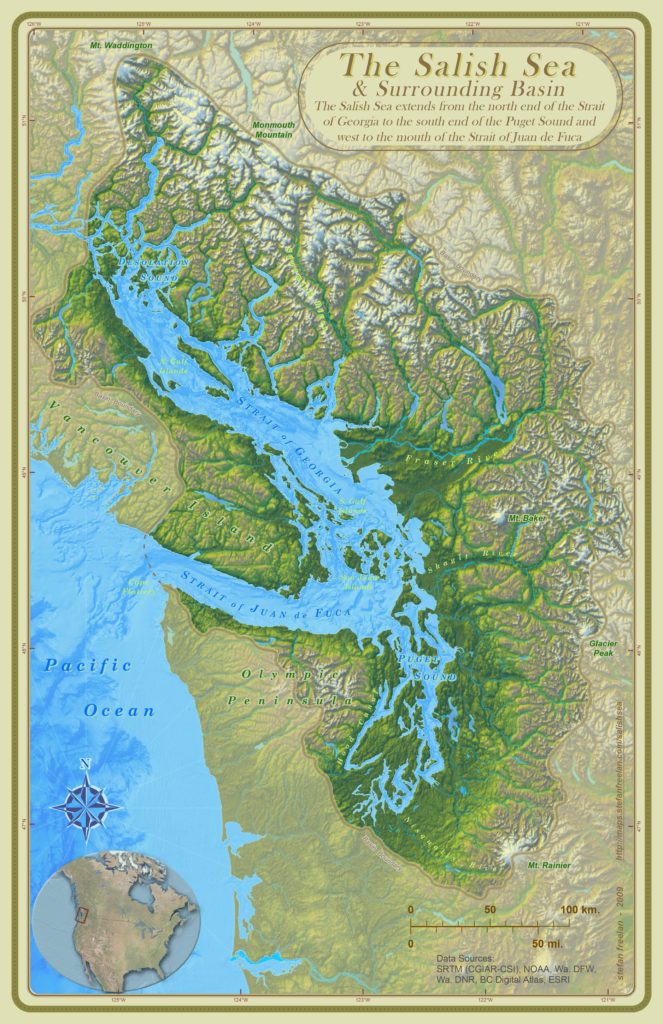 In this space we will be building the story of the Salish Sea, sharing the indigenous perspective and interpretation of the gifts and wonders of this sacred space.  We have very challenging issues here with the fossil fuel and other industries, pollutants and toxins on land and in the water, congestive vessel traffic and shipping noise, severe adverse impacts on wild/marine life to the point of several Endangered Species Act listing, disputes with Treaty Rights, and more.
It's a space with a place in time immemorial, with a sacred name.  It deserves our respect and our due diligence.
Here are some resolutions passed by the Affiliated Tribes of Northwest Indians:
ATNI Resolution-18-32:  2018 Mid-Year Convention – "TOKITAE, THE SOUTHERN RESIDENT KILLER WHALE POPULATION, AND THESALISH SEA: OUR SACRED OBLIGATION"
ATNI Resolution 19-29:  2019 Mid-Year Convention – "THE SALISH SEA AND OUR SACRED OBLIGATION"
---
Few rivers define a region like the Columbia, where tribal scientists are making headway in bringing back its most important species: salmon.
Few rivers define a region like the Columbia. Since time immemorial, it's been a food source, a dividing line and a driver of culture and politics throughout the Pacific Northwest. And since humans have lived on it, we've sung about it — from Native hymns to Woody Guthrie's "Roll On, Columbia."
Ever since white settlers first came west, people have gone from relying on its seasonal bounty to attempting to tame it for their own purposes. Of those efforts, nothing has transformed the Columbia like the 18 dams that generate low-cost electricity and create reservoirs that support Washington's year-round agricultural industry. Woody even wrote a song about the largest of those dams, the Grand Coulee — a 500-foot-tall, nearly milelong wall of concrete that is among the largest objects built by human hands.
Read and listen to more here.