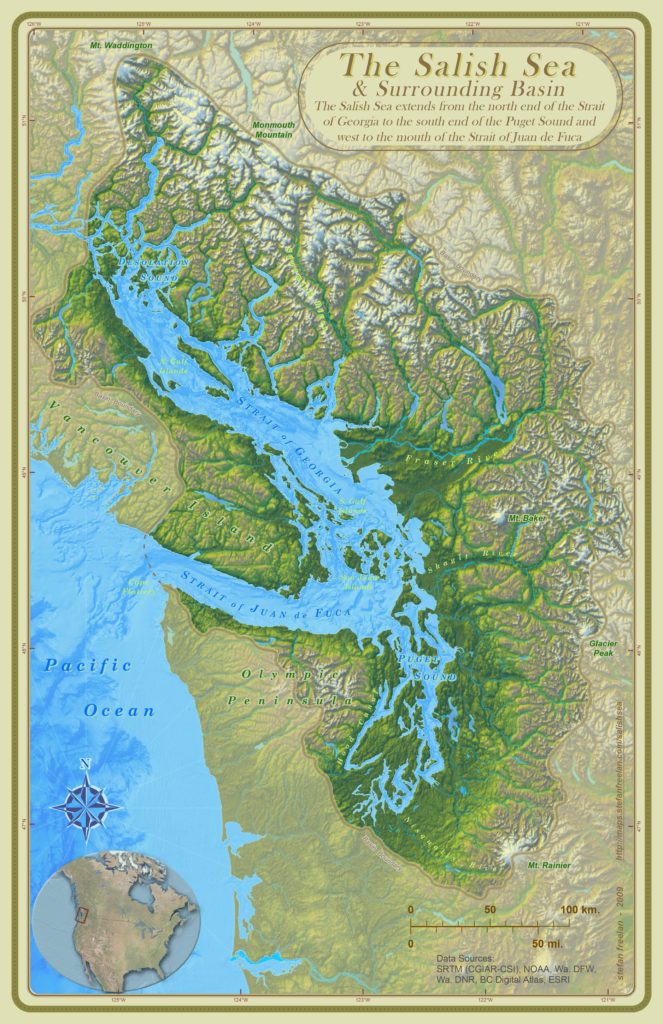 In this space we will be building the story of the Salish Sea, sharing the indigenous perspective and interpretation of the gifts and wonders of this sacred space.  We have very challenging issues here with the fossil fuel and other industries, pollutants and toxins on land and in the water, congestive vessel traffic and shipping noise, severe adverse impacts on wild/marine life to the point of several Endangered Species Act listing, disputes with Treaty Rights, and more.
It's a space with a place in time immemorial, with a sacred name.  It deserves our respect and our due diligence.
Here are some resolutions passed by the Affiliated Tribes of Northwest Indians:
ATNI Resolution-18-32:  2018 Mid-Year Convention – "TOKITAE, THE SOUTHERN RESIDENT KILLER WHALE POPULATION, AND THESALISH SEA: OUR SACRED OBLIGATION"
ATNI Resolution 19-29:  2019 Mid-Year Convention – "THE SALISH SEA AND OUR SACRED OBLIGATION"
---
Association of Northwest Steelheaders ● Boulder-White Clouds Council ● Center for Environmental Law and Policy ● Columbia Riverkeeper ● Deschutes River Alliance ● Earth Ministry/Washington Interfaith Power & Light ● Federation of Western Outdoor Clubs ● Faith Action Network ● Great Old Broads for Wilderness ● Greater Hells Canyon Council ● Idaho Conservation League ● Idaho Rivers United ● Idaho Wildlife Federation ● JUUstice Washington ● League of Women Voters of Washington ● Native Fish Society ● Nimiipuu Protecting the Environment ● Northwest Guides and Anglers Association ● Oregon Coast Alliance ● Oregon Wild ● Portland Audubon ● Save our Wild Salmon Coalition ● The Lands Council ● WaterWatch of Oregon ● Washington Wildlife Federation ● Washington Wild ● Wild Orca ● Wild Steelhead Coalition ● Snake River Waterkeeper ● Sierra Club
March 14, 2023 President Joe Biden 1600 Pennsylvania Avenue, N.W. Washington D.C. 20500 RE: U.S.-Canada Columbia River Treaty: Expand the U.S. Entity to Improve Governance and Outcomes Dear President Biden, On behalf of millions of our members, we write to request that your Administration take action to improve the governance of the U.S - Canada Columbia River Treaty ("Treaty"). Specifically, we ask that you use your executive authority to expand the U.S. Entity, the body that implements the Treaty for the U.S., to include a representative(s) for the health of the river's ecosystem. We believe this action is urgently needed and in lockstep with your Administration's commitment to improving transparency and representation in the governance of nature's bounty, which in the case of the Columbia River, underpins the entirety of the Northwest's environment, culture, and economy. As you are aware, the United States – led by the State Department – and Canada are currently negotiating to modernize this 60-year old Treaty. The U.S. negotiating position is informed by the 2013 U.S. Entity Regional Recommendation for the Future of the Columbia River Treaty after 2024, which includes recommendations to improve the health of the Columbia River ecosystem for salmon and other species. Currently, Treaty dams in Canada impact U.S. salmon runs by reducing spring and early summer flows when juvenile salmon are migrating to the ocean, reducing overall adult returns. Enhancing these flows is especially critical in low-to-moderate water years, both to improve juvenile outmigration survival as well as to keep the river cooler longer through the summer. This impact is both an environmental and a social justice issue. Fortunately, both countries, with the strong support of Tribes in the U.S. and Indigenous Nations in Canada, have elevated the health of the river as an important purpose of a modernized Treaty. As such, an additional representative(s) on the U.S. Entity will also be necessary to ensure that the implementation of the Treaty can effectively fulfill this purpose. The U.S. Entity is currently comprised of the Bonneville Power Administration ("BPA") and the U.S. Army Corps of Engineers ("USACE"). We strongly believe BPA and USACE are unable to give voice to the needs of salmon and the health of the river while simultaneously speaking for hydroelectric production and flood risk management. Over thirty years of failure by these agencies to stop, much less reverse, the salmon extinction crisis in the Columbia Basin supports this conclusion. Instead, a federal agency (or agencies) with expertise and a focus on the environment, and/or Tribal nations or entities, will be far better suited to represent the needs of the river and its fish and wildlife. Please note that we are well aware of the current push to reach an agreement with Canada on a modernized Treaty as soon as possible. With this request, we are not recommending a delay in negotiations but rather ask that this change to Treaty governance be made as or before we transition from negotiation to implementation of a modernized Treaty.
We also would like to request the opportunity to schedule a virtual meeting with relevant members of your Administration soon, as well as an in-person meeting, likely in spring, to discuss these issues further. We will follow up soon for this purpose. In the meantime, if you have questions or if we can assist in any way, please contact: Joseph Bogaard at joseph@wildsalmon.org. Thank you very much for your consideration. Sincerely, Joseph Bogaard, Executive Director Save our Wild Salmon Coalition Dan Ritzman, Director Lands, Water, Wildlife Campaign Sierra Club Neil Brandt, Executive Director WaterWatch of Oregon Lunell Haught, President League of Women Voters of Washington Trish Rolfe, Executive Director Center for Environmental Law and Policy Rev. AC Churchill, Executive Director Earth Ministry/Washington Interfaith Power & Light Miles Johnson, Legal Director Columbia Riverkeeper Mitch Cutter, Salmon & Steelhead Associate Idaho Conservation League Stephen Pfeiffer, Conservation Associate Idaho Rivers United Brian Brooks, Executive Director Idaho Wildlife Federation John McGlenn, President Washington Wildlife Federation
Buck Ryan, Executive Director Snake River Waterkeeper Elise DeGooyer, Executive Director Faith Action Network Grant Putnam, President Northwest Guides and Anglers Association Jason Wedemeyer, Executive Director Association of Northwest Steelheaders Cameron La Follette, Executive Director Oregon Coast Alliance Steve Pedery, Conservation Director Oregon Wild Tom Uniack, Executive Director Washington Wild Amanda Parrish, Executive Director The Lands Council Joe Liebezeit, Interim Statewide Conservation Director Portland Audubon Mark Sherwood, Executive Director Native Fish Society Julian Matthews, Director Nimiipuu Protecting the Environment George Milne, President Federation of Western Outdoor Clubs Sarah Cloud, Executive Director Deschutes River Alliance Rich Simms, Founding Member Wild Steelhead Coalition
Deborah Giles, PhD., Science and Research Director Wild Orca Deb Cruz, President JUUstice Washington Emily Cain, Executive Director Greater Hells Canyon Council Lynne Stone, Director Boulder-White Clouds Council Genia Moncada, Leadership Team, Advocacy Chair Polly Dyer Seattle Broads Great Old Broads for Wilderness CC: Brenda Mallory, Chair, White House Council on Environmental Quality Antony Blinken, Secretary, U.S. Department of State