Project Description:
---
The Trans Mountain Pipeline was in operation in 1953 and its lines run from Alberta to British Columbia and Washington State.
The expansion project, initially approved in 2016, would create a new line that would carry crude oil from tar sands development in Edmonton, Alberta to Burnaby, Westridge Marine Terminal in British Columbia.  The project is expected to tr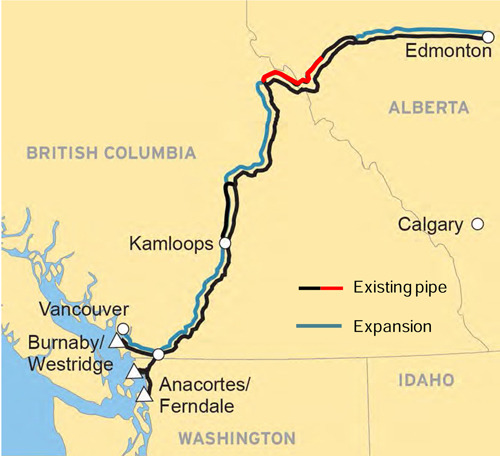 iple the transportation of diluted bitumen and other oil products and to increase oil tanker traffic from 5 to 34 a month (sevenfold).
In 2018, a federal court halted the project because it did not adequately consult First Nations nor did it fully account for its impact on the region's endangered Orcas.
In August 2018, the Canadian government purchased the pipeline project from a failing Kinder Morgan with Trudeau claiming that profits from the pipeline were to be funneled into green energy projects.
In June 2019, British Columbia file an appeal to their Supreme Court, stating that they had the authority to restrict the flow of oil based on concerns for the environment.  In July 2019, Alberta has filed an appeal to intervene stating that BC does not have the authority to restrict the flow.
In July 2019, the National Energy Board granted the necessary permits for construction of major portions (73%) of proposed pipeline expansion and construction materials are being transported to the construction sites.
Status:  (check here for direct participation in review processes, otherwise check the "Take Action" section below)
---
September 17, 2019:  Squamish Nation received a favorable response from the BC Court of Appeals ordering ministers to reconsider the Provincial Environmental Certificate issued to Trans Mountain under the previous provincial government. This means the British Columbia will need to conduct a comprehensive environmental review of the TMX Project under the new Environmental Assessment Act.
---
Impacts and Responses from First/American Indian Nations:
First and American Indian Nations on both sides of the Canadian border are opposing the pipeline citing climate change, environmental damage by construction and shipping, inadequate consultations, destruction of sacred sites, and potential adverse impacts to Orcas and salmon populations.  There are also First Nations, including those on the the Indian Resource Council, who support the pipeline project citing pathways to "reconciliation," economic opportunity and long-term employment for their communities.  The project is pitting Alberta and Saskatchewan First Nations and British Columbia First Nations and US Coast Salish Nations against each other.
Some of the indigenous groups opposing the Trans Mountain Pipeline Expansion:
Tsleil-Waututh First Nation, BC, Canada
Stk'emlupsemc te Secwepemc Nation, BC, Canada
Shxw'owhamel First Nation, BC, Canada
Lummi Nation, Washington State, US
Union of British Columbia Indian Chiefs
Tulalip Tribes, Washington State, US
Tiny House Warriors (InterNational)
Secwepemc First Nation (Shuswap), BC, Canada
Squamish Nation, BC, Canada
Ts'elxweyeqw Tribe, BC, Canada
Swinomish Indian Tribal Community, Washington State, US
Coldwater Indian Band, BC, Canada
Sumas First Nation, BC, Canada
Neskonlith Indian Band
Suquamish Tribe, Washington State, US
First Nations and US Coast Salish Nations in opposition to the project have substantial support from the Premier (BC) John Horgan and such organizations like Stand.earth, Ecojustice, Georgia Straight Alliance, Protect the Inlet, Stand Up to Oil, Mosquito Fleet, Sierra Club, Greenpeace, 350.org, Cities of Burnaby and Vancouver-BC, West Coast Environmental Law, Youth Stop MX, David Suzuki Foundation, several hundreds of business across Canada and even WA Governor Jay Inslee has now condemned the project.  Faith communities (well over 70) such as the Vancouver Unitarians and the Canadian Unitarians for Social Justice with support from many WA State Unitarian congregations and national organizations, have expressed opposition to the Trans Mountain Pipeline Expansion project.  The faith groups like Citizens for Public Justice, Metro Vancouver Jewish Community, Anglican Church of Canada, the Sisters of Sion have also expressed their opposition.
There is a wealth of information regarding the Trans Mountain Pipeline Expansion project and here are a few articles to get you started.
Lummi ltr re UNDRIP to CA House of Commons
B.C. First Nation has change of heart, now opposes Trans Mountain pipeline project
First Nations launch new court challenge to Trans Mountain pipeline
Premiers, chiefs, all Canadians divided over Trans Mountain, says AFN Chief Bellegarde
Why a group of First Nations wants to own the Trans Mountain pipeline
The cases for and against approving the Trans Mountain pipeline expansion
Northwest Tribes Respond t0 Canada's Continued Push for Trans Mountain Pipeline Expansion
New legal action launched against Trans Mountain over protecting orcas
Faces of the resistance: Six pipeline opponents on why they oppose the Trans Mountain expansion and what they're prepared to do about it
---
Take Action:
---
Other Resources:
Trans Mountain Pipeline (Company site)
Trans Mountain Pipeline Expansion (Company site)