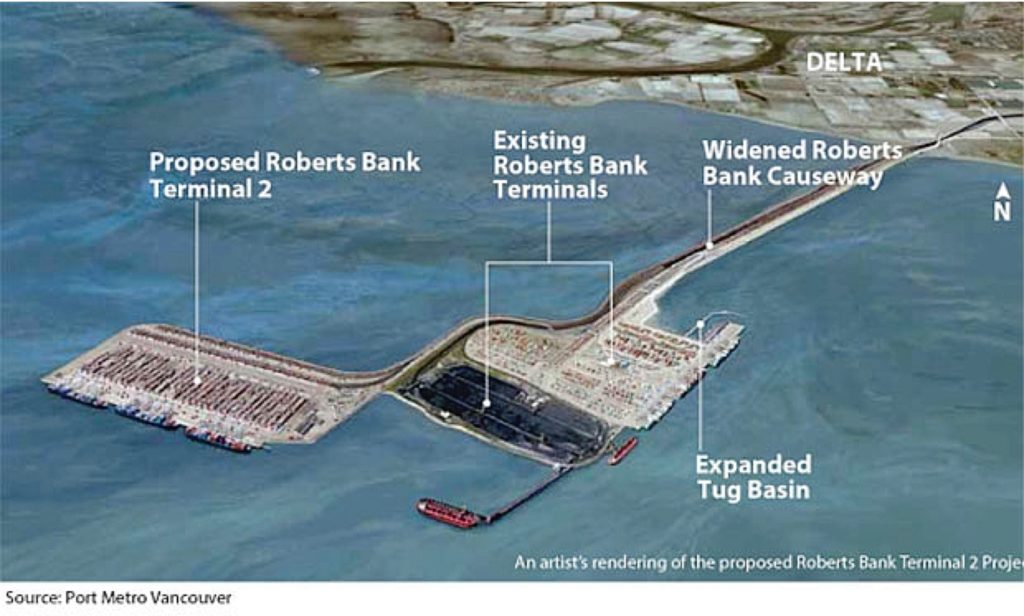 Project Description:
---
The Roberts Bank Terminal 2 project is a proposed new marine container terminal at Roberts Bank in Delta, B.C.  The terminal is expected to serve container ships bringing consumer goods from Asia and exporting natural resources [emphasis added] from Canada.
Status:  (check here for direct participation in review processes, otherwise check the "Take Action" section below)
---
The Canadian Environmental Assessment Agency is currently conducting a federal environmental assessment by an independent review panel under the Canadian Environmental Assessment Act of 2012 and also a review under the British Columbia Environmental Assessment Act.  Field studies by the Vancouver Fraser Port Authority will continue in August 2019.
Under the Canadian Environmental Assessment Act of 2012 (Canadian Environmental Registry – Roberts Bank Terminal 2 Project), closing remarks are due by August 26, 2019
British Columbia Environmental Assessment the structure for the process has been established but there have been no hearings or commenting sessions scheduled as yet.
Environmental review studies continued throughout December 2019.
---
Impacts and Responses from First/American Indian Nations:
Lummi Press Release Roberts Banks
Lummi Press Release Roberts Banks
Lummi Roberts Bank EIS Comments
Lummi ltr re UNDRIP to CA House of Commons
'Stop the bleeding of the Salish Sea': Washington First Nations oppose Delta terminal expansion
---
Take Action:
---
Other Resources:
Port of Vancouver – Roberts Bank Terminal 2 Project
---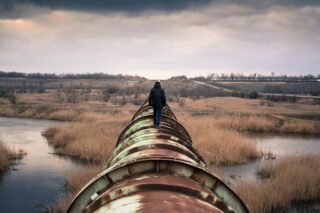 The Lakota People's Law Project has put out a call to action to advocate against HR1374, the "Enhancing State Energy Security Planning and Emergency Preparedness Act of 2021" – a bill that has already passed in the House and is heading to the Senate. This bill would worsen the already dangerous and complex dynamics of state-backed and corporate-funded violence against and criminalization of water protectors. More Information
Washington state has made significant commitments to and investments in the protection and recovery of these killer whales, their critical Salish Sea habitat, and their food web, which hinges on the availability of Chinook salmon. The terminal will threaten the progress made to date on recommendations of the Governor's Orca Task Force and on state legislation that has ensued from its deliberations. Even ignoring the added risks of oil spills and ship strikes, there would still be a major increase in underwater noise levels from these massive container ships that will further limit the orcas' ability to echolocate, communicate and hunt. Over 40 organizations and nearly 100,000* individuals have asked Governor Inslee to oppose the Roberts Bank terminal project, signing a petition addressed to him. And they have asked that if the project is approved in spite of their strong objections, he should insist that robust risk-mitigation measures — such as an emergency tug strategically located along the vessels' path — be required to protect the orcas, salmon and Washington state environment. Read more here.
As currently planned, Roberts Bank Terminal 2 (RBT2) would be built in the sub-tidal waters of the Fraser River delta adjacent to the Westshore coal terminal, on 437 acres of critical habitat for salmon and migratory birds. Once in existence, it would significantly increase the Port's capacity for larger container ships and also induce more container-ship traffic through the trans-boundary waters of the Salish Sea — by up to 520 transits per year. The massive "Mega-Max" container ships that could call on this terminal typically carry 18 to 24 thousand containers. They can also carry much larger amounts of propulsion fuels, in some cases over 4 million gallons worth, which could dramatically increase the extent of an oil spill from a container-ship collision or grounding. Read more here.
The Vancouver Fraser Port Authority is continuing field studies in December 2019 as part of ongoing environmental and technical work for the Roberts Bank Terminal 2 Project. According to the Port, the purpose of these studies is to determine the physical conditions (e.g., temperature and salinity) influencing biofilm presence and distribution at Roberts Bank. The Roberts Bank study area is located in the upper and mid intertidal zones north of the Roberts Bank causeway. Read more here.