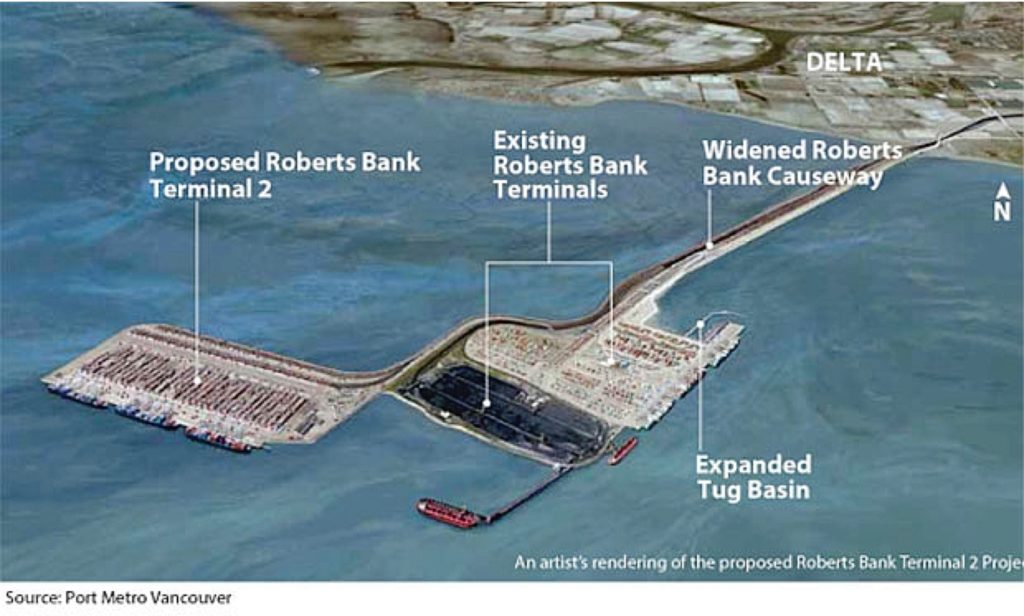 Project Description:
---
The Roberts Bank Terminal 2 project is a proposed new marine container terminal at Roberts Bank in Delta, B.C.  The terminal is expected to serve container ships bringing consumer goods from Asia and exporting natural resources [emphasis added] from Canada.
Status:  (check here for direct participation in review processes, otherwise check the "Take Action" section below)
---
The Canadian Environmental Assessment Agency is currently conducting a federal environmental assessment by an independent review panel under the Canadian Environmental Assessment Act of 2012 and also a review under the British Columbia Environmental Assessment Act.  Field studies by the Vancouver Fraser Port Authority will continue in August 2019.
Under the Canadian Environmental Assessment Act of 2012 (Canadian Environmental Registry – Roberts Bank Terminal 2 Project), closing remarks are due by August 26, 2019
British Columbia Environmental Assessment the structure for the process has been established but there have been no hearings or commenting sessions scheduled as yet.
---
Impacts and Responses from First/American Indian Nations:
Lummi Press Release Roberts Banks
Lummi Press Release Roberts Banks
Lummi Roberts Bank EIS Comments
Lummi ltr re UNDRIP to CA House of Commons
'Stop the bleeding of the Salish Sea': Washington First Nations oppose Delta terminal expansion
---
Take Action:
---
Other Resources:
Port of Vancouver – Roberts Bank Terminal 2 Project