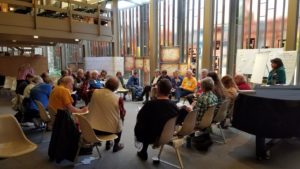 The Justice Summit is a vital  tradition for NW Unitarian Universalists and their justice allies.  At each year's summit, activists come together to consider how best to address social, environmental and economic justice issues that challenge our world, and how to increase equity, diversity, and inclusion in that work.  At the end of the day, participants leave with new insights, renewed inspiration, plans for action, and vital new partners and tools with which to pursue their justice work.
Curious about past summits?  Check out the 2019 Annual Justice Summit  and 2018 Justice Summit Recap.
---
The Legislative Conference is another vital tradition for politically engaged UUs in the State of Washington.  It is held in November after the elections for the year.  We maintain a Unitarian Universalist presence in the legislative process.  We work to educate and develop a politically informed network.  We encourage Unitarian Universalists to reflect on and act on their religious values to promote a just and sustainable world.
The Legislative Conference is an annual event of JUUstice Washington in which Unitarian-Universalists meet, on a congregational or individual basis, with other Unitarian-Universalist congregations around the state. We discuss a list of issues on which we expect legislative or initiative action in the next year, and choose priorities based on our commitments and moral obligations.
A recap of the 2018 Legislative Conference can be found here with links to the priorities voted on for 2019 legislative session.
The next Legislative Conference is expected to take place in the fall of 2019.