NW Justice Summit 2020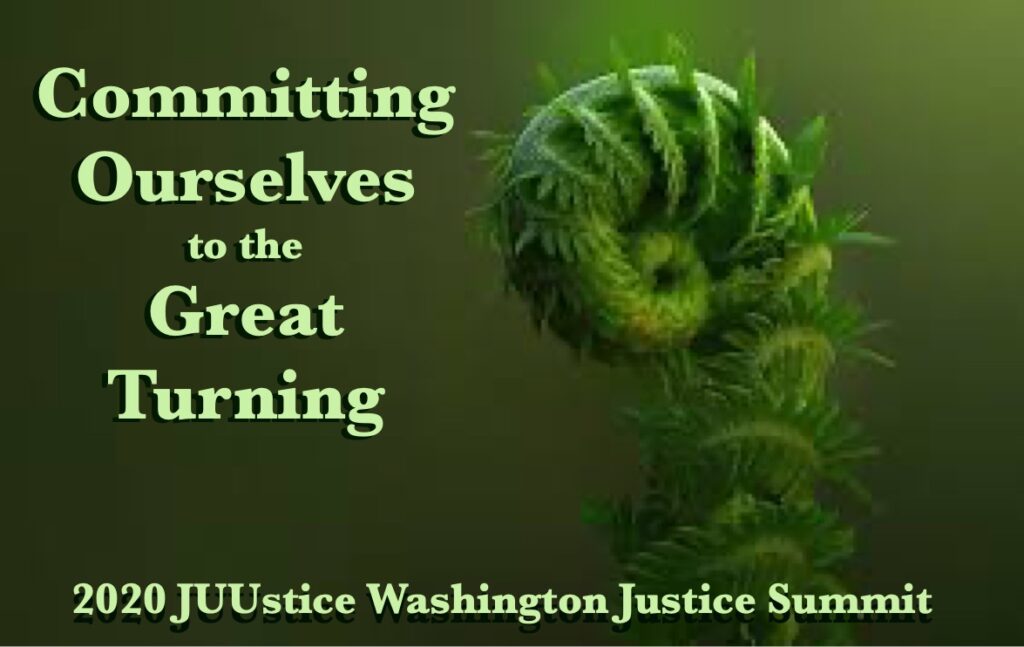 Part 2 – Strategy Sessions (December 4-6, 2020)
We reconvened in December to identify and launch actionable steps to further justice work. Each session included a variety of topics from which  working groups were created.  Participants were asked to commit to the working groups they attended under each justice topic in order keep the momentum going after the Summit. The following strategy sessions were conducted based on the panelists discussions at part 1 of the Summit and some new ideas introduced later.  
Each area has a link to a Summit Activity page where you can view panelist information, session summaries and links to a variety of resources for further work.  We encourage your involvement even if you were unable to attend the Summit.   If you have any further questions, please don't hesitate to contact us.  
---
First/American Indian Nations (FAIN) – Friday, December 4, 6:00-9:00 pm PST
Structures of Support and Moral Repair
Doctrine of Discovery
Rebuild and Maintain the Beauty of the Earth
---
Racial Justice – Saturday, December 5, 8:30- 11:30 am PST
Anti-racism and the 8th principle
Institutional violence
Prison to School Pipeline
---
Environmental Justice – Saturday, December 5, 12:30-3:30 pm PST
Green New Deal 
Fossil Fuel and Extractive Industry
---
Refugee, Immigrant and Migrant Solidarity (RIMS) – Sunday, December 6, 8:30-11:30 am PST 
Basic Human Rights
Citizenship Pathways and Asylum Seeking
---
Intersectional and Legislative, Sunday, December 6 from 12:30-3:30 pm PST       
We understand that justice work often overlaps and does not fit neatly into one category. During our Sunday afternoon session, participants will have the opportunity to return to re-engage discussion from their workgroups with further co-pollination from other workgroups. Topics may emerge organically throughout the weekend, or include discussion around:
Food Access & Sovereignty
The Right to Abode
Legal Drop in Session: For intersectional discussion, training, and time to work on legislative objectives for all other topics with support from analysts, legislators and lobbyists.
Link to full Legislative Strategies Description
---
---
---
NW Justice Summit Part 1  (October 9-10, 2020)
JUUstice Washington 2020 NW Justice Summit Panel Presentations  
This year's Summit, Part 1 in October was a huge success, with 130+ participants, meaty panel discussions and valuable contributions from attendees. Now that we have the election results and a possible deadlocked congress, our work takes on added urgency.
Session 1 panelists and breakout sessions yielded a wealth of action ideas that we will be pursuing in NW Justice Summit Session 2 of the Summit, December 4-6.  The registration included attendance for part 2, as well as access to videos and transcripts from Part 1 of the Summit.
---
JUUstice Washington's board & staff are delighted to announce the 2020 NW Justice Summit.
New format, exciting speakers, post-election organizing.
Don't miss this chance to connect with like-minded activists and would-be activists!
Our 2020 Justice Summit is right around the corner! We'll meet via Zoom on October 9th and 10th for the Panel Program and again, December 4th – 6th for the Strategy Session.  We're employing a virtual format with national speakers, opportunities to network, increased accessibility and an expanded action component. Best of all, you'll have access to every session. We'll hear perspectives about core issues in October and then return after the election to craft actions in response to the outcome. 
October 9th will be a panel centering on Indigenous issues.  Racial justice, Environmental justice, RIMS (Refugee, Immigrant and Migrant Solidarity), and Legislative Advocacy will be the focus of a sequence of panel sessions on October 10th. Dive deeper into our Summit pages to learn about the full program and the panelists.  
During December 4th through 6th sessions, participants will take the information gathered during the October Panels and the November election results,  and begin strategizing actions for the rest of the 2021 and beyond.
The online format allows you to attend all of the sessions or just those of greatest interest to you. Follow us on Facebook for rapid updates.  
---
Part I Panel Program
Oct. 10, 2020:
This has been updated so be sure you have the right one!
---
JUUstWA has recently launched a revitalization project, as such we have two new skilled interns, Larkin and Sahar, who will be working toward building our racial justice, environmental justice, and RIMS refugee, immigrant, migrant worker solidarity area focuses into greater action and sustainability. If you are an individual, organization, or congregation hoping to go deeper into justice work on these or any of our area focuses. Please contact them at actionteams@juustwa.org take their outreach or volunteer survey, or join their monthly strategy sessions.
This project is funded in part by the Fund for Unitarian Universalist Social Responsibility.