October 10th Morning Program
Welcome by JUUstice Washington President Deb Cruz
All who come in the Spirit of Good Will are welcome here.
Indigenous Peoples Day – Land Acknowledgement
Introduction to JUUstice WA
Purpose of Summit:  Committing to the Great Turning
Introduction to the Revitalization Project and conveners Sahar Mushin-Laufman and Larkin Flora
Introduction to the Day's Program (panels)
Service (8:10 am – 8:30 am) with Rev. Dennis Reynolds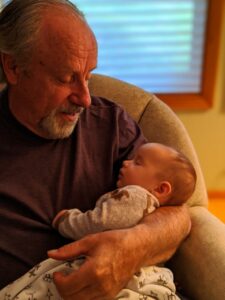 "The Weaving We Are Called to Do"
Rev. Dennis Reynolds served a number of UU congregations throughout California, Oregon and Washington.  He served his internship with Quimper Unitarian of Port Townsend, a brief stint at Saltwater UU, and pulpit supply in a number of congregations.  Before his retirement in 2018, Dennis served as the UU minister on Whidbey Island since 2012.  He has had the opportunity to meet many UUs from around the state of Washington through his years on the Washington UU Voices for Justice, the State's former Unitarian Universalist legislative advocacy network.  He also served with the UU Global Aids Coalition working in South Africa and with the UU Service Committee (UUSC) working in Haiti.  More recently, he has been engaged with the Poor People's Campaign.  He now lives in Eugene, Oregon and is working at refining what it means to be an elder who is engaged in the process of striving to build a better world in ways that assure we fully hear those voices that have all too often been unheard and gone unheeded.
Chalice Lighting by Lisa Friedman
Song: Spirit of Life (all participants welcome to unmute and join in)
Spirit of Life, come unto me.
Sing in my heart all the stirrings of compassion.
Blow in the wind, rise in the sea;
Move in the hand, giving life the shape of justice.
Roots hold me close; wings set me free;
Spirit of Life, come to me, come to me.
Grounding Meditation words from Thich Nhat Hah
An Ancient Story
Reflection "The Weaving We Are Called to Do"
Song of Benediction "The Work We Are Called to Do" by Matt Smith