More information will be coming out about these groups as they progress.
Green New Deal.  This group is focusing on this and other environmental legislative initiatives.
Fossil Fuel and Extractive Industry.  This group will likely intersect a lot with the Rebuild and Maintain the Earth group from FAIN.  Many of the fossil fuel and extractive industry projects impact First/American Indian Nations peoples, lands and waters.
Youth and Climate:  This group did not materialize but UU Ministry for Earth has an active group that UU Young Adults for Climate Justice that can be used as a means for young adults to become engaged and it provides other resources to assist in that engagement.
---
Part II of the Summit!
Environmental Justice – Saturday, December 5, 12:30-3:30 pm PST     Workgroup Topics
Building people power and momentum toward direct action and policy/advocacy regulations
Green New Deal

: In this workgroup, we will explore broadly or specifically legislation and advocacy measures in support of the Green New Deal. Participants will work to create strategies of individual and collective action, policy making, stakeholder partnerships and lobbying of legislation including the Growth Management Act; building electrification; clean fuel; envisioning a new system beyond industrialization, capitalism and consumerism; and the impact on workers in shifting to a green economy. 

Fossil Fuel and Extractive Industry:  In this workgroup, we will explore broadly or specifically disrupting and visioning away from extractive industries. Participants will work to develop effective methods of collaboration from local to international; vision towards what a non-extractive civilization could look like; identify current research on negative impacts; and collaborate with overlooked stakeholders for corporate and governmental accountability.  List of potential issues to explore and build around.
Youth and Climate:

In this workgroup, we will provide a forum for youth, who have played such an important part in advancing climate justice issues. Participants will work to create strategies of individual and collective action, with a special focus on supporting youth-led initiatives and connecting them to the broader movement. 
Among its priorities, JUUstice Washington has committed to the expansion of our Environmental Justice efforts this year, due to the cascade of catastrophic climate events, the ongoing presence of COVID-19 and the environmental implications of it and other potential pandemics, the rollbacks on environmental regulations and underfunding of environmental programs and agencies both on State and Federal levels, increases in air, water and land pollution, razing of forests and intense wildfires, increases in extractive industry projects, increases in species extinction and the urgent need for mitigation of warming and a myriad of other environmental crises across the globe – all with special emphasis on impacted communities.
To help reinvigorate the environmental justice action team and prepare them for tackling these issues, JUUstice Washington is grateful to have received a grant from the Fund for UU Social Responsibility. We have hired two wonderful facilitators to connect with congregations and build leadership teams. For information on this initiative and more about action teams, contact Larkin & Sahar at actionteams@juustwa.org.
The October 9th panel was a wonderful success and our panelists were outstanding.  Many will be rejoining us for the December work strategy session once again.  If you missed the October panel and are interested in viewing the recording of it, go to https://juustwa.org/summit2020 and register for Part II.  The links will be given to you with your registration confirmation and get you signed up for the 4-6th weekend strategy session.
Part II work groups will be looking to cover a wide range of topics in all their complexities including the climate refugees, fossil fuel and extractive industry projects and the New Green Deal.
---
Summit Environmental Justice Panel
October 10, 2020 @ 10:45 am – 12:45 pm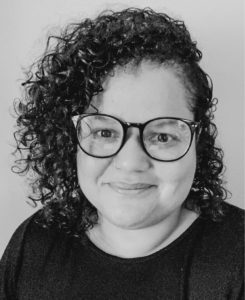 Ana Maria De La Rosa is a Senior Grassroots Organizer with the Unitarian Universalist Service Committee (UUSC).  She specifically works with the Migrant Justice and Climate-Forced Displacement campaigns.  Ana Maria is a first generation daughter of Latinx immigrants and her organizing style is rooted in diasporic analysis of the Black and Brown experience in the U.S. Her strategy for organizing globally-building locally is in part shaped by her U.S. Peace Corps service in Northern Peru as a Community Health Organizer. She is dedicated to supporting historically oppressed communities in building healing-centered engagement strategies for building power, dismantling racism, and connecting with joy.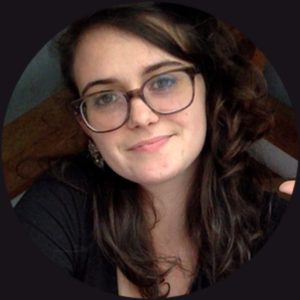 Aly Tharp is the Program Director of the Unitarian Universalist Ministry for Earth (UUMFE) and Climate Justice strategist for the UUA. She is a member of Wildflower UU Church in Austin, TX, and has been leading various national UU climate justice programs for six years. Aly's greatest joy & passion is building community power for social change through art, culture, and food.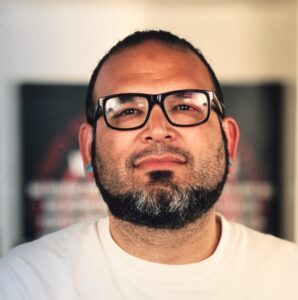 Edgar Franks is the Washington State Campaign and Political Director for Familias Unidas por Justicia where he works with union leadership and allies in the development and implementation of the Just Transition framework that centers food sovereignty and worker organizing in innovative models of participatory democracy, such as People's Movement Assemblies and Tribunals. Edgar has strong farmworker roots in Skagit County, WA where he grew up. Edgar honed his organizing skills supporting the formation of the first independent farmworker union in WA State since 1986. As an organizer he works in Whatcom and Skagit Counties and sometimes travels to Eastern WA to meet with farm workers as needed and supports their organizing efforts working with union organizers of Familias Unidas por la Justicia. Edgar has been one of the main organizers that have supported the strikes of apple warehouse workers in Yakima. He also has been organizing with H2A and domestic workers since 2013. Before joining Familias Unidas, Edgar served as the Civic Engagement Program Coordinator at Community to Community Development, working to engage allies to develop strategies that ensure the voices of farmworkers are represented at all levels of the political process. Edgar sits on the governance board of the Washington Climate Alliance and the Labor Network for Sustainability.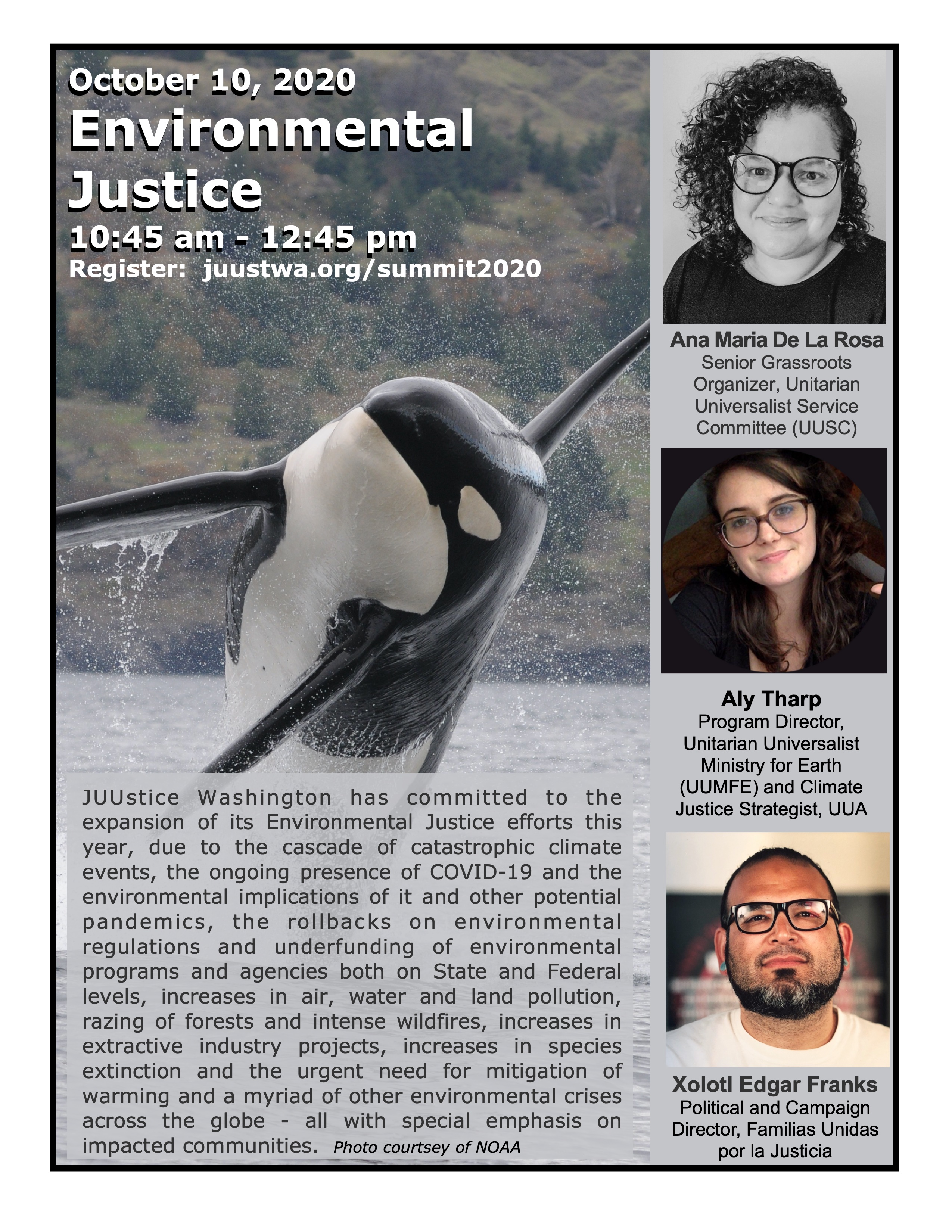 JUUstice Washington's Revitalization Project
JUUstWa has recently launched a revitalization project, as such we have two new skilled interns, Larkin and Sahar, who will be working toward building our racial justice, environmental justice, and RIMS refugee, immigrant, migrant worker solidarity area focuses into greater action and sustainability. If you are an individual, organization, or congregation hoping to go deeper into justice work on these or any of our area focuses. Please contact them at actionteams@juustwa.org take their outreach or volunteer survey, or join their monthly strategy sessions.
Photo credit:  National Oceanic and Atmospheric Administration (NOAA)