Under construction, however, more developed Justice resources are listed in the menu to the right.
---
Nancy Palmer Jones and Karin Lin, Skinner House Books, 2019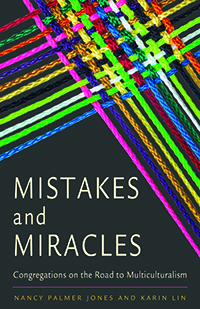 What calls Unitarian Universalists to create multicultural, antiracist Beloved Community? What do congregations need when they embark on this journey? What common threads run through their stories? Nancy Palmer Jones and Karin Lin—a white minister and a lay person of color—share how five diverse congregations encounter frustrations and disappointments, as well as hope and wonder, once they commit to the journey. Mistakes abound. Miracles of transformation and joy emerge too. Extensively researched and thoughtfully written—with reflection questions at the end of each chapter—Mistakes and Miracles: Congregations on the Road to Multiculturalism will guide readers to apply these stories to their own communities, develop next steps, and renew their commitment to this hard but meaningful work.