Sk'aliCh'elh-tenaut, otherwise known as Lolita (non-Indian name) or Tokitae, is a member of the Southern Resident Orcas.  Her story is one of tragedy that began in 1970 and is continuing today.  It's a tragedy that may well continue until her death unless we can aide the efforts of Lummi Nation to intercede.
Sk'aliCh'elh-tenaut was violently removed from her family in one of a series of marine raids on the Southern Resident orca population that inhabits the traditional territory of the Lummi Indians.  In the raids, 45 Orca youth had been captured and scattered to marine parks across the globe.  Tokitae was taken to Miami Seaquarium in Miami, Florida and is the last surviving Orca of these raids.
Lummi Nation is leading a team of experts to secure her release from the Seaquarium. It is planned, when she is finally brought home from her small concrete tank in the Seaquarium to her Southern Resident Killer Whale "L-pod" she will go through rehabilitation in a designated sanctuary in the San Juan Islands.  Rehabilitation and reintroduction of other captive Orcas into their waters of origin have been successful and working with several organizations, Lummi Nation has a plan in place to bring Tokitae home and reunite her with her mother and the rest of her relatives in L-Pod.
The Affiliated Tribes of Northwest Indians has also stepped up to lend their support to these efforts in their "Tokitae, The Southern Resident Killer Whale Population, and the Salish Sea: Our Sacred Obligation," Resolution #19-32 passed during their 2018 midyear convention.  Additional information on the history of the struggle to bring Sk'aliCh'elh-tenaut home is here:  Background.Sk'aliCh'elh-tenaut.4.1.21.
The need now is only to secure her release from Miami Sequarium . . . who is refusing.  Efforts are underway to see her release under the Native American Graves and Repatriation Act filed by Squil-le-he-le (Raynell Morris) and Tah-Mahs (Ellie Kinley) with the help of Earth Law Center.
Tokitae Totem Pole Journey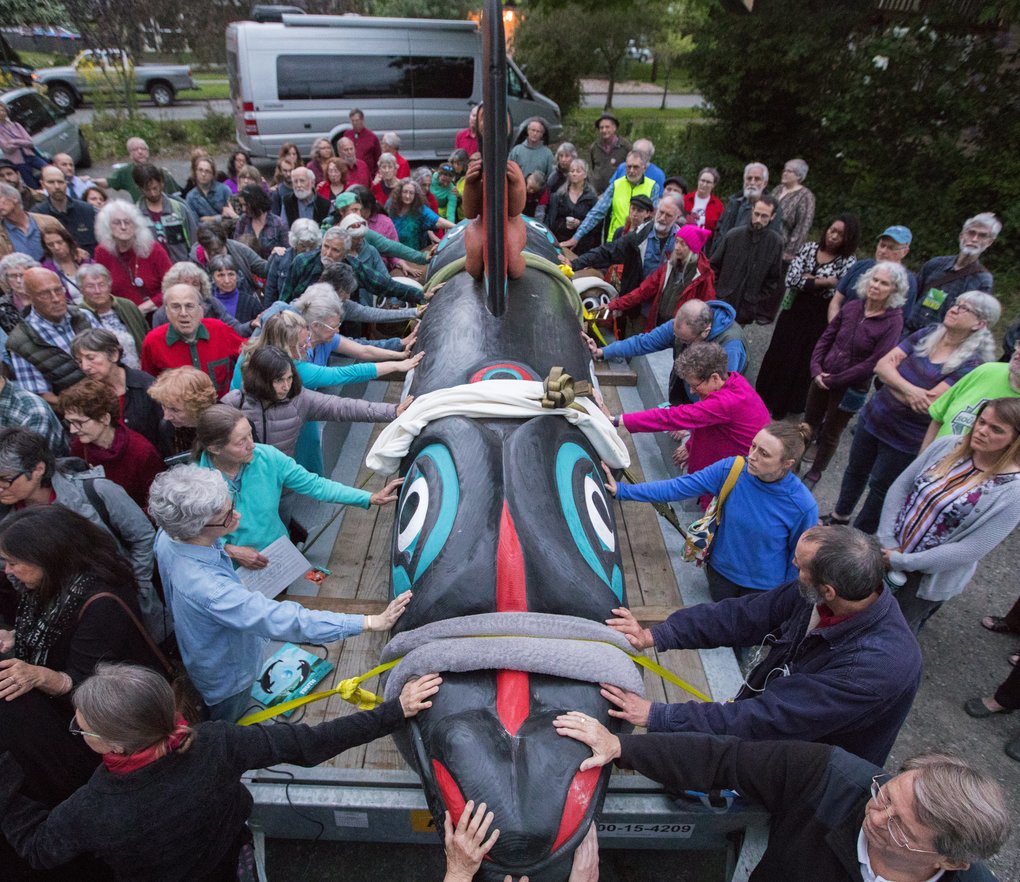 In the winter and spring of 2018, Master Carver Jewell Praying Wolf James and the Lummi House of Tears Carvers, carved a Totem Pole to tell the story of Tokitae and of a family who have become the iconic image of the Salish Sea.  On May 9, 2018, the Bellingham Unitarian Fellowship was privileged to host a blessing ceremony for the Tokitae Totem Pole and sent it on its journey, a journey that would see blessing events in cities across the country through to Miami, Florida as part of its Salish Sea Campaign.  The Totem Pole is carved in the representation of a female killer whale and her two children.
The hope has been, to raise awareness of Tokitae's story and her plight, as well as that of the remaining Southern Resident Orcas.  The Journey has been about the trauma and resilience of Tokitae and about the importance of her return home to waters of the Salish Sea.  It is about the critical nature of restoring, protecting and preserving the Salish Sea.  It's about Tokitae's healing and being reunited with her mother and family for whom she still calls out nightly and whose songs she still remembers.
Tokitae represents a strengthening and healing in body and spirit for her, for all of us, and for the sacred and endangered waters of the Salish Sea. Her rescue, rehabilitation, and reunion represents, to share the Lummi language, our shared Xa xalh Xechnging ("our sacred obligation") to honor qw'e lh'ol mèchen ("killer whale"), to rescue and rehabilitate the Salish Sea, reunite us with a healthy and vibrant Xwullmy ("Salish Sea"), and demonstrates the difference uniting diverse communities, groups and organizations can make against even the most formidable opponents.
The Story of Tokitae and the Southern Resident Orcas can be followed at "Our Sacred Sea:  For A Living Salish Sea" website by Lummi Nation.
Also, to trace where the Journey has been and where it will be going next, follow it on its Facebook page "Our Shared Responsibility:  A Totem Pole Journey."
Please stay tuned,
while the Tokitae  Totem Pole will be coming home in June 2019 to Lummi Nation!
Additional resources for information on bringing Tokitae home:
A Native American tribe demands the return of its spiritual relative —  an orca
---
Netse Mot:  Support Lummi Nation and 
Xw'ullemy (the Salish Sea)
2nd Call for Support:  Bring Sk'aliCh'elh-tenaut Home!
JUUstice Washington has signed . . .
Board of Trustees of the Bellingham Unitarian Fellowship has signed . . .
Bellingham Unitarian Fellowship's Social and Environmental Justice Committee has signed . . .
Have you?
We are being called upon as groups and organizations to support the effort to bring Sk'aliCh'elh-tenaut home to the Pacific Northwest.  Specifically, we are being asked to sign a request to Governor's Inslee (WA) and Brown (OR) and B.C. Premier John Horgan to sign a proclamation to support the efforts to bring her home.  This is different than the petition to Miami Seaquarim for individuals that went out earlier.
Please sign by 24 May 2021 as a group or organization.  The desired goal is present it to the Governors in June during Orca Action Month for signing.  Here's the link to the
form to be signed
 by your group, congregation or organization.  The text of that proclamation is listed below.
I realize that many of us have specific procedures and protocols that we are required to adhere to, especially as faith-based congregations and we may not be able to achieve congregational resolutions by the 24 May deadline.  Please try where you are able to do so.  If you are not able to come forward with a full congregational resolution or organizational support, then by all means, request that your various racial, Indigenous-related and/or environmental justice teams and Indigenous teams to sign on as their respective groups.
For those of you unfamiliar with the story of Skk'aliCh'el-tenaut, here's brief synopsis.
In 1970, a number of young Southern Resident Orca relations were violently captured from their native Salish Sea waters and sold to aquariums. Only one of these qwe'lhol'mechen survives to this day. Sk'aliCh'elh-tenaut, who has also been called "Tokitae" and "Lolita" in captivity, remains the star attraction of Miami Seaquarium, where she is held in the world's smallest orca tank, subjected to relentless sun and extreme social isolation.
The Southern Resident Orcas of the Salish Sea are culturally and spiritually significant to the Coast Salish peoples whose territories overlap with that of the orcas. In particular, the Lhaq'temish people of Lummi Nation consider these orcas to be family. The Lummi term for orcas is qwe'lhol'mechen, meaning "the people under water," and ancestral teachings hold that there are kinship bonds between the Lhaq'temish and orca peoples.
In 2017, Lummi Nation was called to work to bring Sk'aliCh'elh-tenaut home. In 2019, Lummi elders Squil-le-he-le (Raynell Morris) and Tah-Mahs (Ellie Kinley) invoked their legal, cultural, and spiritual rights in calling for her release and homecoming, and announcing their intent to sue on the grounds of the Native American Graves Protection and Repatriation Act (NAGPRA) should negotiations not be successful. They are represented by Earth Law Center on the legal front, and are working with the Whale Sanctuary Project on the operational front. There is now a comprehensive plan that details how to safely and responsibly bring Sk'aliCh'elh-tenaut out of captivity and back home to the Salish Sea. The plan is grounded and guided by Lummi culture and oversight, and is a living document that will change according to Sk'aliCh'elh- tenaut's needs as they change over time. The ongoing health and well-being of Sk'aliCh'elh- tenaut, her Southern Resident Orca family, and the Salish Sea are centered in this plan.
Other background resources are:
Sk'aliCh'elh-tenaut, Sacred Sea: for a living Salish Sea at
sacredsea.org
You can also google "Tokitae" and view other websites, articles and videos regarding Lummi Nation's work to bring her home.