Tokitae, otherwise known as Lolita (non-Indian name), is a member of the Southern Resident Orcas.  Tokitae's story is one of tragedy that began in 1970 and is continuing today.  It's a tragedy that may well  continue until her death unless we can aide the efforts of Lummi Nation to intercede.
Tokitae was violently removed from her family in one of a series of marine raids on the Southern Resident orca population that inhabits the traditional territory of the Lummi Indians.  In the raids, 45 Orca youth had been captured and scattered to marine parks across the globe.  Tokitae was taken to Miami Seaquarium in Miami, Florida and is the last surviving Orca of these raids.
Lummi Nation is leading a team of experts to secure her release from the Seaquarium. It is planned, when she is finally brought home from her small concrete tank in the Seaquarium to her Southern Resident Killer Whale "L-pod" she will go through rehabilitation in a designated sanctuary in the San Juan Islands.  Rehabilitation and reintroduction of other captive Orcas into their waters of origin have been successful and working with several organizations, Lummi Nation has a plan in place to bring Tokitae home and reunite her with her mother and the rest of her relatives in L-Pod.
The Affiliated Tribes of Northwest Indians has also stepped up to lend their support to these efforts in their "Tokitae, The Southern Resident Killer Whale Population, and the Salish Sea: Our Sacred Obligation," Resolution #19-32 passed during their 2018 midyear convention.
The need now is only to secure her release from Miami Sequarium . . . who is refusing.
Tokitae Totem Pole Journey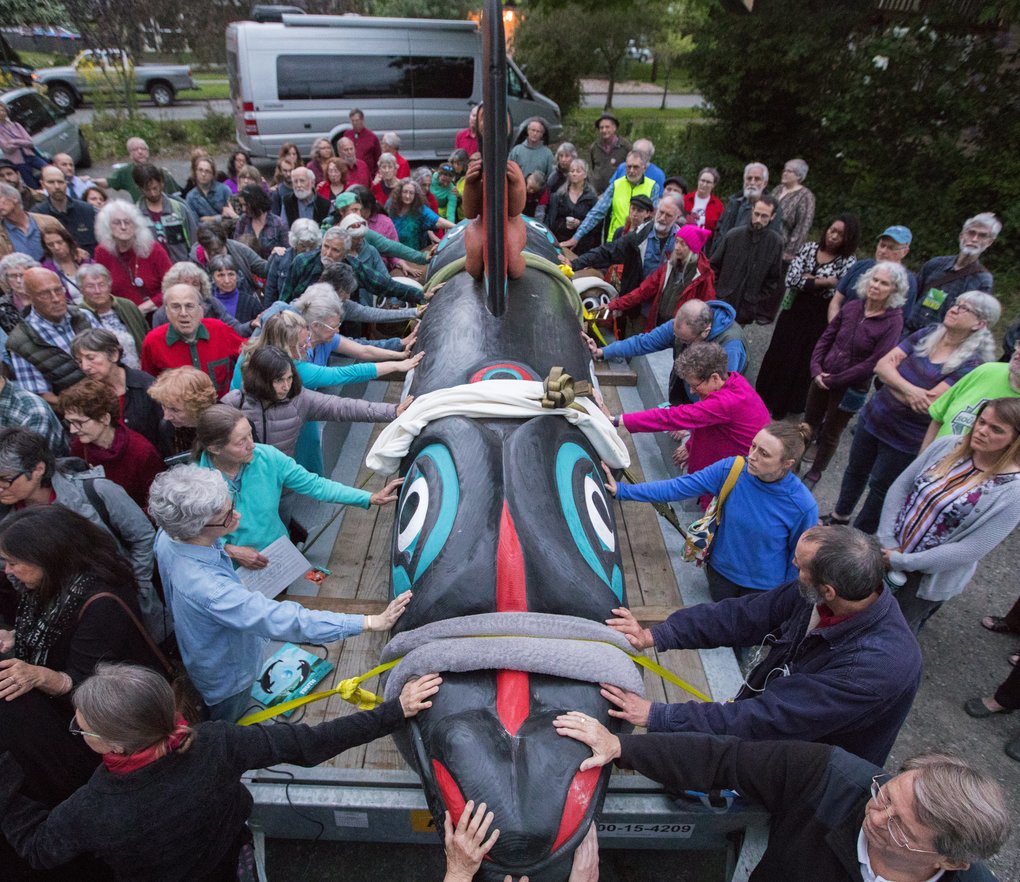 In the winter and spring of 2018, Master Carver Jewell Praying Wolf James and the Lummi House of Tears Carvers, carved a Totem Pole to tell the story of Tokitae and of a family who have become the iconic image of the Salish Sea.  On May 9, 2018, the Bellingham Unitarian Fellowship was privileged to host a blessing ceremony for the Tokitae Totem Pole and sent it on its journey, a journey that would see blessing events in cities across the country through to Miami, Florida as part of its Salish Sea Campaign.  The Totem Pole is carved in the representation of a female killer whale and her two children.
The hope has been, to raise awareness of Tokitae's story and her plight, as well as that of the remaining Southern Resident Orcas.  The Journey has been about the trauma and resilience of Tokitae and about the importance of her return home to waters of the Salish Sea.  It is about the critical nature of restoring, protecting and preserving the Salish Sea.  It's about Tokitae's healing and being reunited with her mother and family for whom she still calls out nightly and whose songs she still remembers.
Tokitae represents a strengthening and healing in body and spirit for her, for all of us, and for the sacred and endangered waters of the Salish Sea. Her rescue, rehabilitation, and reunion represents, to share the Lummi language, our shared Xa xalh Xechnging ("our sacred obligation") to honor qw'e lh'ol mèchen ("killer whale"), to rescue and rehabilitate the Salish Sea, reunite us with a healthy and vibrant Xwullmy ("Salish Sea"), and demonstrates the difference uniting diverse communities, groups and organizations can make against even the most formidable opponents.
The Story of Tokitae and the Southern Resident Orcas can be followed at "Our Sacred Sea:  For A Living Salish Sea" website by Lummi Nation.
Also, to trace where the Journey has been and where it will be going next, follow it on its Facebook page "Our Shared Responsibility:  A Totem Pole Journey."
Please stay tuned,
while the Tokitae  Totem Pole will be coming home in June 2019 to Lummi Nation!
Additional resources for information on bringing Tokitae home:
A Native American tribe demands the return of its spiritual relative —  an orca
---
KNKX, By BELLAMY PAILTHORP • DEC 4, 2019 Now, a new nonprofit group is making the case that no cetaceans should be held captive and forced to perform for food. It's called The Whale Sanctuary Project. It would be a $15 million facility where roughly a half dozen captive orcas could safely retire. The group's extensive roster includes dozens of scientists and trainers — some who once worked in the captive industry. They want to put their first facility in the Pacific Northwest. "We're attached to the Southern Residents. We want to do whatever we can to help them," said the group's founder and president Lori Marino, as she toured the Northwest this summer. Read more here.