Here are some photos and videos posted by Zoltan Grossman.
Melanie P2L.  Melanie Schambach, muralist for several Lummi projects, the creation of a mural of Paddle to Lummi.  "A hundred and fifty guests from Tribal Journeys: Paddle to Lummi 2019 commemorated the event by co-creating this 11′ X 11′ participatory mural. Over the course of three days children to elders painted stories of healing, celebration, and cultural heritage and unveiled the final creation on the last day of potlatch on July 28th. The painting is now available for people to use at different events and community gatherings."  See more of Melanie's extraordinary work here.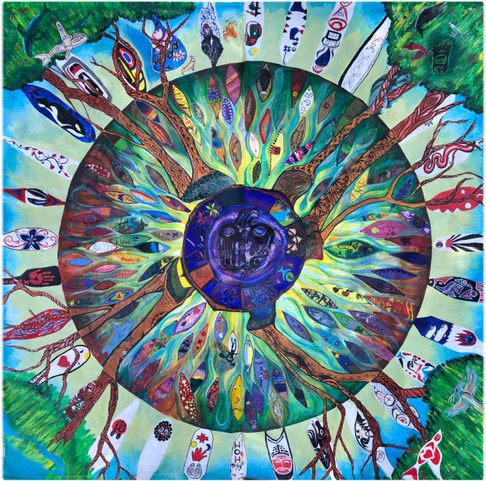 P2L Proclamation.  Proclamation signed by Whatcom County City Mayors and County Executive.
2019 Paddle to Lummi Legislative endorsements.  Read here the letters of endorsement from Washington State Legislators and the Governor.
---
THINGS TO DO NOW TO SUPPORT 2019 TRIBAL CANOE JOURNEY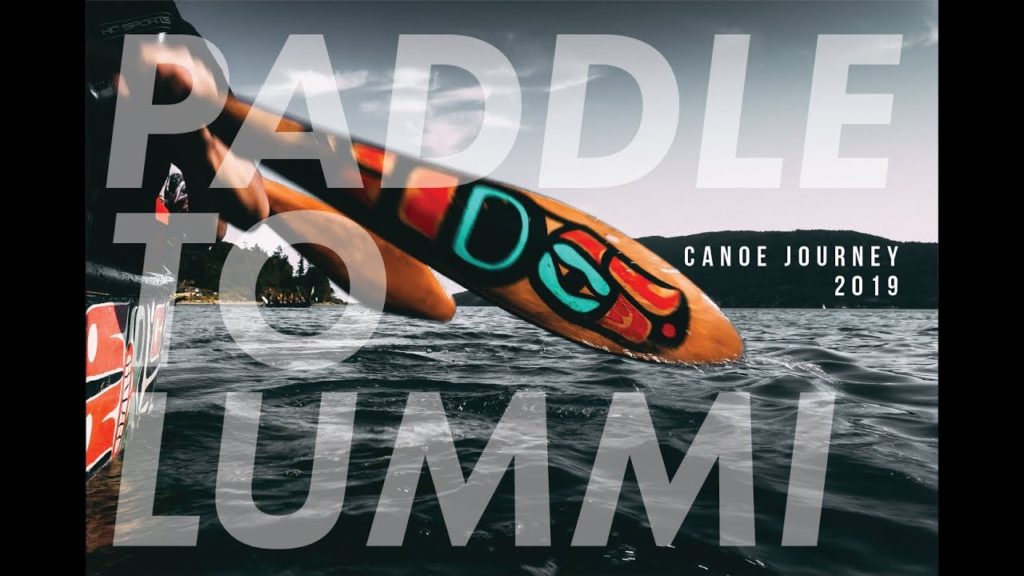 DONATE to help lower $1.1 million dollar cost to Lummi: tax deductible donations
Sign up to Volunteer: Fill out the form with contact information and skills, etc. Once contacts for people are received information will be sent out about specific volunteer positions and shift choices.
Support the 2019 Paddle to Lummi Blanket Project sponsored by Olympia UUs. Donors are asked to contribute $90 to purchase 10 blankets; one you may keep for your own gifting. The remainders are given to Lummi Nation to give as gifts to members of each canoe family. In the last two years 1,200 blankets were given to each Nisqually and Puyallup Nations when they each hosted the 2017 & 2018 Tribal Journey.
---
This letter will going out to all PNW UU Congregations, so please, follow-up with your ministers and justice leaders, or present this as well!  We're hoping to get some kind of donation from all the UU congregations as a show of faith support for the PNW Tribes and Nations.  Also, there is a link below for volunteers who will be needed throughout the five-day celebration.  But read on for more information (or go here to get a pdf version of this letter).  Please pass this along to whoever you think my be interested! NGOs and other faith communities are welcome!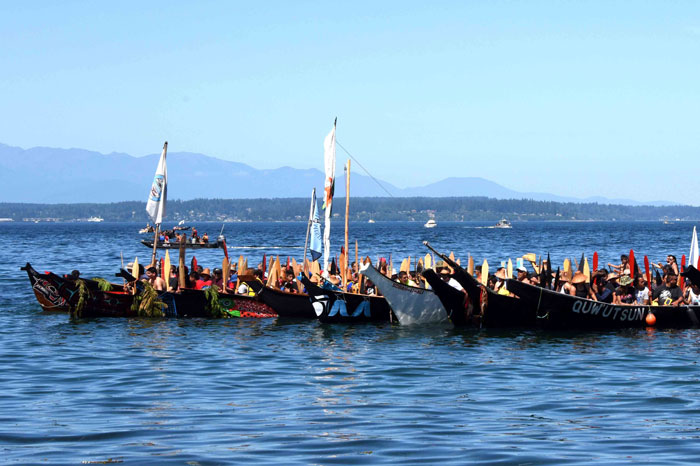 The journey honors the rich traditions of Coast Salish tribes of the Northwest,
who travel the waters to meet and gather for trade, ceremony, and celebration.
Canoe Journey holds special significance to Coast Salish Tribes
as it truly honors and nourishes the unique relationships and connections
with the land, water, and one another.
~ Jay Julius, Chairman, Lummi Nation
Dear Ministers and Justice Leaders:
The Tribal Canoe Journey is coming to Lummi Nation, Bellingham, Washington!  On July 24, 2019 Lummi Nation will welcome to its shores more than 10,000 people and 100 canoes from other Tribal Nations along the Pacific Coast (California to British Columbia), New Zealand, Hawaii and Florida.
The Canoe Journey began in 1989, part of the 100th anniversary of Washington Statehood in which the state and indigenous governments signed the Centennial Accord recognizing indigenous sovereignty.  These Canoe Journeys are organized up and down the whole Pacific Northwest Coast and have been hosted by many different Northwest Native communities over the years.  Special guest Canoes have been received and welcomed from all around the world.
In recent years, the Tribal Canoe Journey has also offered opportunities for non-native residents to honor and support the First/American Indian Nations of this beautiful region we are blessed to call home.  This is opening up of a cultural event to the non-native community, is a significant gesture on the part of our Tribes and Nations.
"I grew up in the Midwest learning about the noble Pacific Northwest Indian tribes as artifacts of a world long-gone. I grew up as a farmer, dependent upon the land, water, and creatures, and as a Christian with an imperative to spread the good news of God's great love. Over the years I've been able to reframe each of these visions: to encounter my Coast Salish neighbors in the context of their living traditions, to develop a spiritual rather than entirely utilitarian relationship with nature, and to recognize that my childhood religious heritage can only reach its fullness in humble communion with the many manifestations of the holy. For all of these reasons I support, and urge you to support, the 2019 Tribal Canoe Journey, which, in bringing together diverse native cultures, will model for all of us the power of intercultural meeting. Our support for the Tribal Canoe Journey, in whatever form it takes, will remind us how our interdependent web of human community thrives through our mutual reinforcement."
 ~ Rev. Paul Beckel
Bellingham Unitarian Fellowship
The Tribal Canoe Journey is an annual event and is  hosted by rotating tribal nations along the Pacific Northwest Coast.  This year, Lummi Nation has stepped up to host the Tribal Canoe Journey, "Sqweshnet Tse Schelangen – Honoring Our way of Life." Landings, celebrations, feasts and other activities will be held out at Lummi Nation reservation July 24-28th.
The Canoe Journey is a huge commitment and requires the dedication of a lot of material, volunteer and financial resources. During the five-day celebration, Lummi Nation will furnish 150,000 free meals to guests; provide showers, bathrooms and other facilities for more than 100 canoe families; create spaces and activities for elders, youth and families; and giveaway 10,000 homemade gifts to guests.
So, we are appealing to you for help.
"The first peoples of this land were the Coast Salish. When settlers arrived and claimed land for themselves their indigenous neighbors were pushed to small parcels. Eventually the Coast Salish peoples were not allowed to practice their traditions or even speak their own languages. The Tribal Canoe Journey is one way the Coast Salish have been reclaiming their history and identity. Many of the canoes are paddled by youth, and the journey becomes a way to forge relationships with each other and with their heritage. As communities of faith we can wholeheartedly support ongoing efforts to affirm and encourage tribal communities to define themselves and their traditions. From my perspective, as the descendant of white settlers and a carrier of the faith that did what it could to suppress and degrade indigenous persons, it is a small step toward decolonization to support the 2019 Tribal Canoe Journey with finances and with volunteering. Successfully welcoming and hosting the canoe journey is a monumental task that can only be accomplished with a lot of outside help.
What would the Creator have us do?
It is always the same answer: love our neighbors."
 ~ In peace, Rev. Charis Weathers
Echoes Lutheran, Bellingham
Your individual, organizational and congregational support for the Tribal Canoe Journey can strengthen healing relationships between Lummi Nation and the surrounding community and for other Tribes and Nations and their surrounding communities.
It is an opportunity to honor the Tribal communities of these lands and waters.
It is an opportunity help to revitalize and sustain indigenous culture and identity.
There are several ways in which your congregation and organizations can support this event:
A donation from your congregation or organization
Asking ten members/congregants to donate $100 for a total of $1000 from your congregation,
Help publicize this event in your newsletters, on your websites and/or Facebook pages or other social media platform.
Volunteer for the final landing at Lummi Nation in Bellingham, WA
Reach out to your own local Tribes and Nations who are participating and offer your support, especially to those who are supporting landings.
Thank you from the Paddle To Lummi 2019 Community Connections Committee
Tax-deductible donations can be made
online through the Whatcom Community Foundation or
by check payable to Lhaq'TeMish Foundation (be sure to write Paddle to Lummi 2019 in the memo line).  Mail your check with the form below (in the pdf link below) to:  Lhaq'TeMish Foundation; 2665 Kwina Road; Bellingham 98226.
Go here to get a pdf version of this letter.  Please pass this along to whoever you think my be interested.
The Paddle to Lummi Community Connections Committee was formed to raise awareness, mobilize volunteers and raise funds to support this massive effort by Lummi Nation.
---
By Brian Contreras, Seattle Times July 18, 2019 "The canoes are coming!" a young girl cried from the crowd of onlookers. "They're right there!" The 20-odd canoes approached Alki Beach  just before noon Thursday as part of the "Paddle to Lummi" — or Sqweshenet Tse Schelangen ("honoring our way of life") — a journey through the Salish Sea toward the Lummi Nation, this year's host. During the annual Tribal Canoe Journey, tribes and nations from throughout the Pacific Northwest join up with one another on the way toward Lummi, starting from different points but picking up new canoes along the way. Read more here.