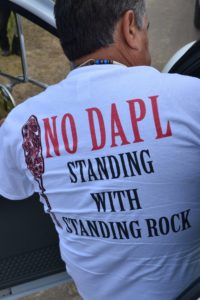 In 2016, the world gathered to watch as Standing Rock Sioux Nation took a stance against the Dakota Access Pipeline (DAPL).  Little did they know, they would be the center of attention in the struggle against giant fossil fuel companies and received support from many, many people and organizations.
Although the DAPL construction was allowed to be completed, there are still ongoing efforts to monitor the pipeline, expose the spills and defend those Water Protectors who are still incarcerated, going to trial and being sentenced.
Over 500 clergy stood in the camps blocking DAPL, over 50 of them were from Unitarian Universalist congregations and organizations and reported in the UU World magazine.  There were many UU ministers and congregational members from the Pacific Northwest, having just gone through similar situations with the Pacific Northwest Tribes and oil, coal and gas projects in Oregon, Washington and British Columbia.
Rev. Karen VanFossan of the Bismark-Mandan UU Congregation is very much involved with two activities related to DAPL and Standing Rock.  For more check out their website.
One effort is working with those Water Protectors that are still incarcerated, going to trial or awaiting sentencing.  A recent September webinar was sponsored by the UUMFE.
Another is her representing UUs and co-coordinating efforts through the InterNational Initiative for Informative Collaboration (INITC).  They have held several retreats in October 2917, December 2017, March 2018 and another in August 2018 with lots of teleconferences in between.  Here the invite for the March Retreat:  MAR 2018 INITC Flyer so you can get a feel for the work they are doing.  The invitation for the the August retreat is here.
At the UUA General Assembly in June 2018, the Assembly conducted an Action for Immediate Witness entitled "We are all Related: Solidarity Now With Indigenous Water Protectors" which speaks to our acknowledgement and gratitude for Standing Rock and our commitment to support other "Indigenous movements that seek to protect the environment and restore traditional Indigenous ways of life."
Currrent news and activities are being shared on the UU Presence at Oceti Sakowin & Sacred Stone Camps Facebook page.
---
During the Occupation
Here were some ways to Contribute to Standing Rock Sioux Nation or the Sacred Stone Camp.  Colder weather was setting and the camp was in need of winter supplies.
Standing Rock Sioux Tribe – Dakota Access Pipeline Donation Fund
Defense Fund for Sacred Stone Spirit Camp
General Fund for Sacred Stone Spirit Camp
Volunteer
Funds for the Red Warrior Camp
Mn­ Wichoni Nakixiin Owayawn (Defenders of the Water School)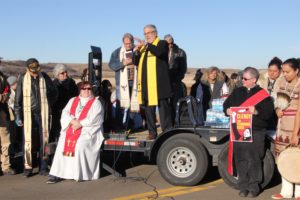 To keep abreast on the how the Nation and Camp are faring, check these sites:
Standing Rock Sioux Nation website
Standing Rock Sioux Tribe Facebook Page
Sacred Stone Camp website
Sacred Stone Camp Facebook
Support UU Actions:
UU Presence at Sacred Stone Camp Facebook page
UU Minister's Letter to Standing Rock Sioux Nation:  Encourage your minister to contact Deb Cruz (dwcruz@comcast.net) and sign the letter.
Congregational Expressions of Support: Encourage your congregation, as a body, to send statements of support to Standing Rock Sioux Nation.
---
NCAI Press Release:
The Great Plains Tribal Chairmen's Association (GPTCA), the Native American Rights Fund (NARF), and the National Congress of American Indians Fund (NCAI Fund) applaud the
D.C. District Court's decision
today to vacate the U.S. Army Corps of Engineers' Lake Oahe easement for the Dakota Access Pipeline, and to require the removal of all oil flowing through the pipeline by August 5, 2020. This decision ensures that the treaty-reserved rights of the plaintiff tribes – the Standing Rock Sioux Tribe, the Cheyenne River Sioux Tribe, the Yankton Sioux Tribe, and the Oglala Sioux Tribe – are adequately addressed, along with any other land and natural resource considerations, in a full-fledged and well-documented environmental review process.
GPTCA, NARF, and NCAI Fund participated in a coalition of Native organizations submitting an
amicus brief
in support of the plaintiff tribes during the latest proceedings in the D.C. District Court and are encouraged by this outcome. We hope that this decision helps pave the way for full and proper environmental impact studies as well as meaningful consultation with tribal nations that have direct or indirect stewardship over the lands under review. Our organizations will continue to work to ensure that every time tribal lands and resources are at stake, the environmental review processes meet all legal standards and respect the federal government's trust obligations to tribes set forth in federal laws.
###
About the Great Plains Tribal Chairman's Association:
Great Plains Tribal Chairman's Association is made up of the 16 Tribal Chairmen, Presidents, and Chairpersons in the states of North Dakota, South Dakota, and Nebraska. Their purpose is to provide a forum for sharing information on matters of interest to its member Tribes, develop consensus on matters of mutual importance, assist member Tribes in their governmental and programmatic development consistent with their goals for self-determination, and self-sufficiency and provide for effective public relations and education program with non-Indian communities. For more information, please visit
http://gptca.net/index.html
About the National Congress of American Indians:
Founded in 1944, the National Congress of American Indians is the oldest, largest and most representative American Indian and Alaska Native organization in the country. NCAI advocates on behalf of tribal governments and communities, promoting strong tribal-federal government-to-government policies, and promoting a better understanding among the general public regarding American Indian and Alaska Native governments, people and rights. For more information, visit 
www.ncai.org
.
About the Native American Rights Fund:
Founded in 1970, NARF is the oldest and largest non-profit dedicated to asserting and defending the rights of Indian tribes, tribal organizations, and individual Indians nationwide. For the past 50 years, NARF has represented over 275 Tribes in 31 states in such areas as tribal jurisdiction, federal recognition, land claims, hunting and fishing rights, religious liberties, and voting rights. For more information, visit
www.narf.org
.