East Shore Unitarian Church is located in Bellevue, Washington.  It has a small group of individuals who work through Ministry Teams including Beloved Racial Justice, Climate Action, Women's Perspective and Women-Helping-Women, Second Sunday Committee and Earth and Social Justice Coordinating Council to bring educational opportunities to congregants and engage in actions at the congregation and in the Seattle area to support local tribes.
Below is a historical overview of EUUC's activities.  At the bottom of the overview is a section for current and most recent events.
2019
June 2019—East Shore members will give the Second Sunday service collection (June 9th) as a donation to Lhaq'temish Foundation of the Lummi Nation.
May 13 and 14, 2019—East Shore responded to a request for housing assistance for Pit River Nation attending federal appellate case regarding geothermal mining in Medicine Lake, a sacred site.  (The delegation ended up staying elsewhere.)  Marilyn Mayers helped with dinner and attended hearing itself.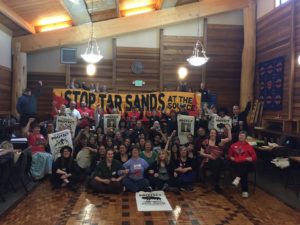 May 2019—Several teams at East Shore are urging East Shore's Worship team (which organizes the Sunday services) to incorporate a formal acknowledgement of sitting on Duwamish land at EVERY morning service.
April 27, 2019—ESUC members participated in the "Promise to Protect Training" at the Duwamish Long house.
April 7, 2019—East Shore held two church services related to Native issues.  Jessie Dye from Earth Ministry focused on ways non-native allies have supported tribes.  Freddy Lane from Lummi and Ken Workman from the Duwamish led the second service which focused on the spiritual dimension of the Canoe journey. A lunch was given to honor the work of the Lummi and the Duwamish at which East Shore members committed to supporting the 2019 Canoe Journey.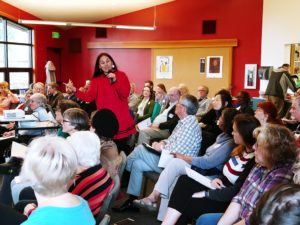 April 6, 2019—East Shore organized and held a community-wide workshop, "Challenges facing Native Communities and How to be Allies", dealing with issues related to tribal history and sovereignty issues, the Liquified Natural gas plant in Tacoma, Missing & Murdered Indigenous Women.  About 70 people attended.
Spring 2019—East Shore women made 35 necklaces to support and express gratitude to the Lummi in preparation for the Paddle to Lummi Canoe Journey.   East Shore youth made 17 necklaces.  Organized necklace-making events at Muslim Association of Puget Sound (women there made 45 necklaces) and at Ahmadiyya mosque in Monroe (women there made 35). More necklaces will be made during East Shore's annual church retreat on Hood Canal at the end of May for Paddle to Lummi and at East Shore on June 9th.

2018
September 2018—East Shore donated its Second Sunday collection ($1,104) to the Indigenous Environmental Network
August 2018—East Shore donated its Second Sunday collection($1,137) to Innovations Human Trafficking Collaborative in recognition of the work they do to address MMIW.
June 28-July 1, 2018—ESUUC Marilyn Mayers volunteered at Protecting Mother Earth Conference of Indigenous Environmental Network in Nisqually.
May-June 2018—East Shore women prepared 54 necklaces and blankets for the 2018 Paddle to Puyallup Canoe Journey.  East Shore members attended the Paddle to Puyallup landing.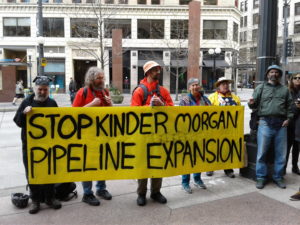 May 20, 2018—Two ESUC members participated in a demonstration in Seattle opposing Kinder Morgan pipeline.
May 7, 2018—An East Shore member attended, and took photos, of the King County Council hearing to pass an ordinance calling for an expanded data base on MMIW.
May 4, 2018—Two ESUC members went to a MMIW gathering in Fife organized by the Puyallup tribe.
April 13, 2018—East Shore hosted a potluck screening of the 2010 Ware Lecture by WinonaLaDuke (Anishinaabekwe)which wasfollowed by a discussion of Native American human rights and environmental issues facing tribal communities across the country.
March 10, 2018—Marilyn participated in indigenous-led march up Burnaby to protest Kinder Morgan pipeline expansion in Vancouver, British Columbia.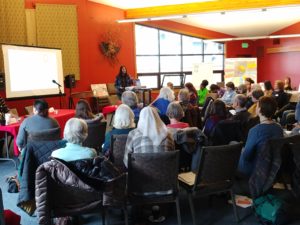 March 4, 2018—East Shore hosted a panel on Missing & Murdered Indigenous Women (MMIW).  This panel was led by staff from Innovations Human Trafficking Collaborative including Jeri Moommaw, Roxanne White, Carolyn DeFord.  62 people attended.
January 20, 2018—East Shore members participated in the Women's March in Seattle. Some members served as Peacekeepers to protect the group of Missing and Murdered Indigenous Women who were group leading the march.
2017
November 19, 2017—Sunday's service highlighted the Duwamish and the Chinook as Rev. Elaine recapped the prior evening's events and Cecile Hansen (Duwamish Tribal Chair) spoke briefly. Two members of the Duwamish tribe attended the church service and stayed for the potluck and conversation.
November 18, 2017—East Shore hosted a screening of PromisedLand,a social justice documentary about the Duwamish Tribe and the Chinook Nation, and their ongoing fight for tribal recognition. Approximately 65 people, and presenters included the producers and directors, Sarah and Vasant Salcedo, along with Cecile Hansen (Duwamish Tribal Chair) and Aaron James Jones, (Chinook Nation).
August 13, 2017—East Shore service celebrated the Duwamish Tribe. Tribal Leader Cecile Hansen and Blake White Wolf Shelafoe told stories, offered insights into the history of the Duwamish people, drummed, and sang songs.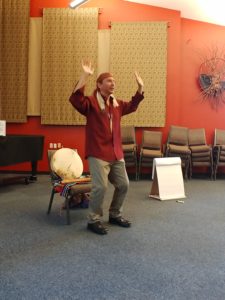 August 2017—A three week series of classes focused on a discussion of All the Real Indians Died Offby Native American scholars Roxanne Dunbar-Ortizand Dina Gilio-Whitaker.
August 2017—East Shore congregation donated its Second Sunday collection ($1,118) to Duwamish Tribal Services
June 17, 2017—East Shore's Climate Action Ministry and Lifelong Learning were honored to host an "Intergenerational Indigenous Story Hour" with Paul Cheoketen Wagner (Vancouver Island Saanich Tribal member). Those who attended came away with a deeper awareness and appreciation of the close relationship that Native Americans have with their environment and the natural world.
June 2017—East Shore hosted a Pull Together Campaign with the help of Sierra Club to support First Nations, led by Tsleil Waututh in British Columbia, against Trans Mountain Pipeline expansion.  We raised $5,000, with 65 people in attendance from all over Washington.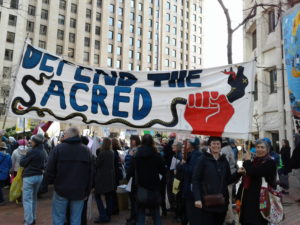 March 10 and 16, 2017—East Shore members participated in NoDAPL protests in Seattle.
February and March, 2017—A series of classes, entitled "Whose Lands are We On?,"focusing on Native American issues provided historical background, discussed the Doctrine of Discovery, and connected to current challenges facing local tribes. Beth Brownfield began the series by providing background about her work at BUF.
2016
Thanksgiving, 2016—East Shore's Past Interim Minister, Rev. Elaine Peresluha and Youth Group Coordinator, Amanda Roesch-Knapp drove to North Dakota to support the indigenous led Standing Rock protests against the Dakota Access Pipeline project. Their trip to Standing Rock was supported by the congregation with financial donations and donations of some goods. They helped ready the camps for winter, cooking and keeping warm common areas in the camp. The two participated in many demonstrations throughout their time at Standing Rock, as well as taking part in learning opportunities about the camp, it's goals, the history of environmental indigenous struggles, and the work of various tribes to confront rampant settler colonialism.
July 2016—ESUU Member Marilyn Mayers volunteered at the camp for Paddle to Nisqually.
May 14, 2016—East Shore members volunteered at Penn Cove Water Festival and Canoe Races, Coupeville, Whidbey Island.
April 2016—East Shore congregation donated its Second Sunday collection ($1,276) to Billy Frank, Jr. Endowment Fund at the NW Indian College.
April 2016—East Shore had Freddy Lane come to East Shore to lead a service.  Following the service in the afternoon, East Shore's Climate Action Ministry team sponsored a community wide "Indigenous Solidarity Climate Justice Forum".  This forum included four Native speakers—Freddy Lane from Lummi, Tyson Johnston from Quinault, and via skype two other presenters—Kandi Mossett from Three Affiliated Tribes (Mandan, Hidatsa, Arikara nations) from North Dakota, and Alexic Boforosky (Northern Cheyenne from Montana).
---
Saturday – November 23, 2019 When:  1:00 – 4:00 pm – Free of Charge Where:  East Shore Unitarian Church - 12700 SE 32nd ,  Bellevue Panel & Discussion with:
Dina Burstein, Jewish Coalition for Immigrant Justice NW
Monserrat Padilla, WA Immigrant Solidarity Network & Coordinator for the Queer Undocumented Immigrant Project
Carolyn de Ford, Murdered and Missing Indigenous Women & Puyallup Domestic Advocacy Program
Nickhath Sheriff, Muslim Community Resource Center
Followed by Hands-On Activities Bring donations of warm clothing for AIDNW detainees
Sponsored by: Indigenous Rights Educational Project & East Shore UU