This year could prove to be a turning point in our relations with the indigenous people in Washington State.  An opportunity is being presented to begin a Truth and Reconciliation movement in Washington State by a budding coalition of Indian leaders and concerned partners and allies.  This is a new movement and has only just begun basing its premise on the Truth and Reconciliation movements in the State of Maine and in Canada.
What that moment could look like is contained in a draft of a "Proclamation of Support for Truth and Reconciliation in Washington State."  Below is the introduction and includes a link to the full text at the end.  We will be asking UU congregations, other faith communities, social justice and environmental organizations, legislators, educators and interested individuals to make themselves available to work at and promote this movement. It is a long-term effort that will require dedication and commitment.  It will be a spiritual journey as we grapple with our histories, search for ways and opportunities for healing and laying the foundation for a future that holds hope for a future of acknowledgement, equity and respectful relations between all our communities.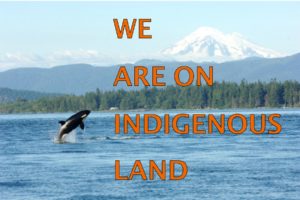 There is an emerging and compelling desire to acknowledge the events of the past so that we can work towards a stronger and healthier future. The truth telling and reconciliation process is a sincere acknowledgement of the injustices and harms experienced by Indigenous peoples in Washington State and the need for continued healing. This is a profound commitment to establishing new relationships embedded in mutual recognition and respect that will forge a brighter future. The truth of our common experiences will help set our spirits free and pave the way to reconciliation. 
We, the residents of Washington State, recognize that every child matters. If all of our residents are to flourish, a process of truth and reconciliation for Indigenous people in our State must be established. 
By signing this proclamation, we have agreed that a Truth and Reconciliation Commission should be established to contribute to truth, healing and reconciliation in Washington State. 
Read the full text here:  WA State Proclamation of Truth and Reconciliation
---
Deep Dive for Indigenous Solidarity May 9, 7:30 PM EST (6:30 Central, 5:30 Mountain, 4:30 Pacific) Preparing ourselves to collaborate with Indigenous partners in a good way. Conversation and small group work to deepen our grounding. Shared learnings. Shared facilitation by UUs connected to the work. Join Zoom Meeting:  https://zoom.us/j/906222305 We continue to prepare in many ways: through the Environmental Justice Practitioners Network presentations by Indigenous leaders; reading An Indigenous History of the US; moving through the Canadian Truth and Reconciliation process; long term relationship through Inter National Initiative for Transformative Collaboration; Water Protectors Support Network; congregational alternatives to the settler -derived Thanksgiving Day celebrations; workshops at GA 2019, and preparation for GA 2020 which falls on the 400th anniversary of the Mayflower landing; a call by our DRUUMM Indian Network to focus on repudiation of Doctrine of Discovery. We have learned much, must continue to learn, and are called by our faith to show up in a good way. Come learn and share. Rev. Karen Brammer Green Sanctuary Manager and Senior Associate for Climate Justice Organizing Strategy Team