The purpose in creating Solidarity Teams is to establish groups of faith and Tribal partners that can speak to the issues and challenges in Indian Country and create movements to respond effectively to these issues and challenges. The teams have the option of starting out small, say within a particular congregation, or volunteering to work with and through state and regional teams (including British Columbia and Alberta, Canada).
This site is currently under construction with the hope that each congregation/organization will have its own page where they can report their activities and events.
OUR VISION for First/American Indian Solidarity Teams.
---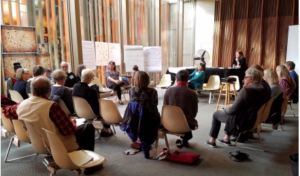 ---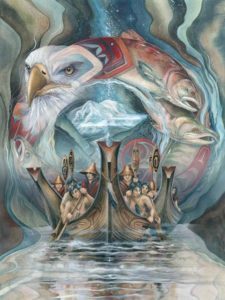 Olympia Unitarian Universalist Congregation Toward Right Relations groups supports Nisqually Indian Tribe with volunteers and fundraising for the 2016 Paddle to Nisqually Canoe Journey.
---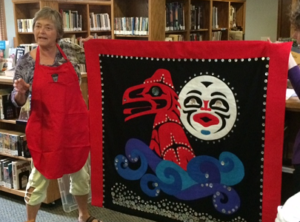 Jamestown S'Klallam Tribal Elder and Quimper Unitarian Universalist Fellowship Native Peoples Connections Group member, Celeste Dybeck submits a family tree button blanket as part of the "In the Spirit" annual Native Artist exhibition at the Washington State History Museum at 1911 Pacific Avenue in Tacoma. The opening reception is June 15 at 5pm, with the exhibit continuing through and culminating with the "In the Spirit" Festival on August 19, 2017.
---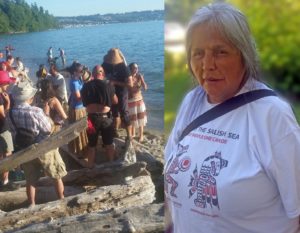 Saltwater UUs hosted the "Walk to Protect and Restore our Salish Sea event July 2017. Saltwater folks fed marchers at their potluck dinner, of which about 50 spent the night at the church.They also made up 35 lunches for the marchers to take with them.
---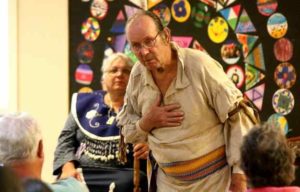 Munsee Lenape Tribe member Cedar Heart, foreground, explains his attitude about derogatory symbolism relative to Native Americans in popular culture during a Q & A session July 30 at East Shore Unitarian Universalist Church in Kirtland. Fellow native storyteller and Seneca Indian Tribe member Blue Wolf Woman looks on in the background. (Photo:  July 2016 Jonathan Tressler — The News-Herald)
---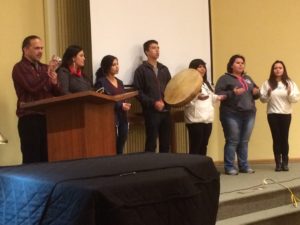 Lummi Nation Canoe Youth at the Bellingham Unitarian Fellowship as part of "Our Voices from Paris" event held on January 28, 2016.  Lummi youth and mentors Freddy Lane (Lummi Nation) and Deborah Parker (Tulalip Tribe) shared their experiences at the COP21 Climate Change Conference in Paris.
---