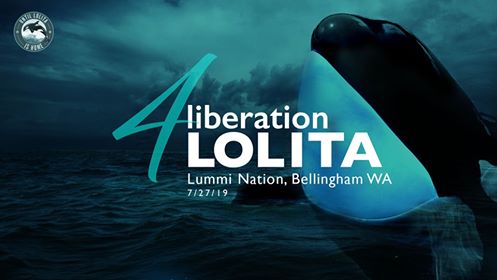 Press conference at an inter-tribal gathering announcing the intention to sue Seaquarium and its parent companies to secure the repatriation of Tokitae.
More Info:  Kurt Russo 360 312 2292 Lummi Nation and www.sacredsea.org
Until Lolita is Home is a grassroots movement that advocates for the retirement of Lolita the orca from the Miami Seaquarium. By raising awareness about Lolita (and ALL cetaceans in captivity) we hope one day Tokitae (her original name) will see her home waters again. We are an all- volunteer group with "members" located around the world.
Starting in May 2015, Until Lolita is Home (formerly Shut Down Palace) hosted rallies at dozens of locations in the United States and abroad, including the Miami Seaquarium and numerous other Palace Entertainment-owned sites.
Join the Until Lolita is Home Movement
www.facebook.com/UntilLolitaisHome
www.RetireLolita.com
http://josweb.co.uk/
UntilLolitaisHome@gmail.com
www.instagram.com/untillolitaishome
https://twitter.com/UntilLolitaHome