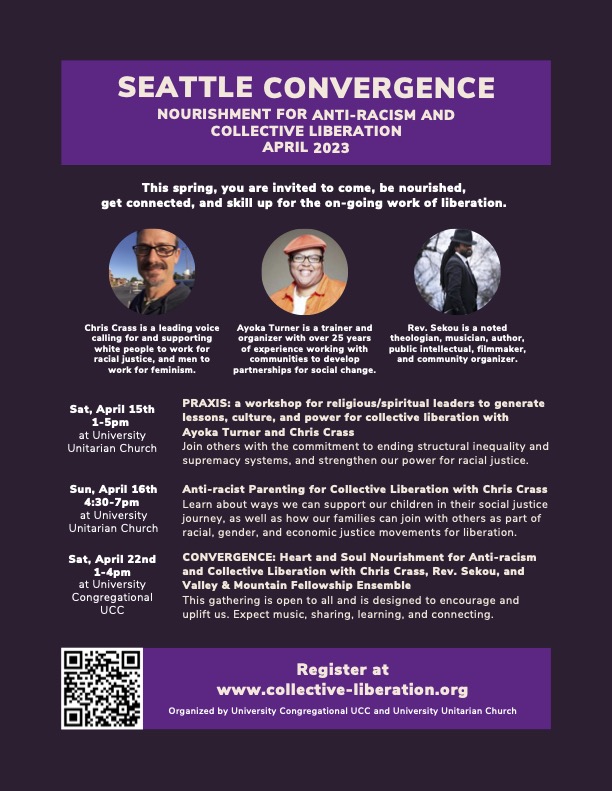 PRAXIS: a workshop for religious/spiritual leaders to generate lessons, culture, and power for collective liberation with Ayoka Turner and Chris Crass
Saturday, April 15, 2023, 1:00 pm – 5:00 pm
This workshop is designed for folks engaged in leadership or interested in leadership within their communities. This is great for members of an anti-racism team, a congregation council or board, finance teams, and staff supervisors.  This workshop will be in-person only.
Anti-racist Parenting for Collective Liberation
Sunday, April 16, 2023, 4:30 pm – 7:00 pm
This participatory workshop with focus on sharing stories and insights with an understanding that there are many ways that we do this/can do this in our families, and that sharing and being in community together can help us feel more connected, grounded and capable. This gathering will have a zoom option, so that people can still participate in small group conversations online
CONVERGENCE: Heart and Soul Nourishment for Anti-racism and Collective Liberation with Rev. Sekou and Chris Crass
Saturday, April 22, 2023, 1:00 pm – 4:00 pm
This gathering is open to all and is designed to encourage and uplift us. The gathering will include music, sharing, learning, and connecting. This gathering will be livestreamed as well as in-person!