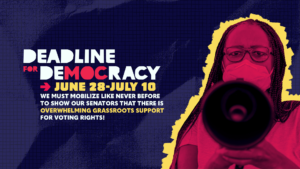 Yesterday, we launched our big plan for the upcoming congressional recess from June 28 - July 10: Deadline for Democracy. And now we've got just a few weeks to plan hundreds of events, drive thousands of signups, and get everything ready to put pressure on all 100 senators for real democracy reform. A red and blue graphic. On the right is a woman wearing a medical mask and speaking into a megaphone. On the left it says "Deadline for Democracy June 28 - July 10 We must mobilize like never before to show our Senators that there is overwhelming grassroots support for voting rights!" If you missed yesterday's email with all the details, read on below for the rundown of what we're planning for this crucial recess. If you're ready to support us right now, click here to donate $10 to help us support events nationwide, build toolkits, create graphics, run ads, and more to make this recess a success and accomplish all our goals. Why Deadline for Democracy? To put it simply, we're running out of time to implement all the most important democracy reform policies we're fighting for. To make sure that measures like voting rights protections, fair redistricting, election security, and more are in place in time for the 2022 election cycle, laws like the For the People Act need to be on the books by August. With a fleeting Democratic trifecta in power, we need to use these next few weeks to build massive public pressure for democracy reform and demand bold, transformative action for a democracy that works for everyone. Congressional recesses are a key time for our activism -- with senators in their home districts, constituents can host rallies, earn press attention, and get creative to show our senators just how crucial these reforms are. And Indivisible activists know how to do just that: we've been doing it for years. How are we supporting this mobilization? Indivisible organizers and volunteers nationwide are already hard at work planning virtual and in-person events in their communities to keep building the momentum we need to win (there are already 79 events on our map -- check it out and add your own on the Deadline for Democracy website!). And here at Indivisible National, we're getting ready to provide the resources, support, and tools they'll need to make their plans a success. Here are some of the ways we're investing to make this recess the biggest one yet:
Running digital ads to recruit volunteers and get the word out about our key priorities
Buying materials and sending out swag boxes to volunteers around the country to give them everything they need to run successful events
Printing personalized postcards for groups to send to their members of Congress in support of top democracy reform bills
Hosting a shiny new website on behalf of dozens of partner organizations
Running exclusive targeted peer-to-peer texting programs in priority states to build attendance
Plus spending hundreds of hours writing policy resources, creating digital toolkits, and more to get everyone in the movement on board.