---
[calendar id="2620″]
---
Among many cultures elders have an important place in the community, especially during turbulent times. Turtle Island, otherwise known as the United States, is undergoing monumental shifts on all levels: culturally, politically, economically, environmentally and spiritually. It is a time to mobilize, educate, reflect, connect and take action. Young people are driving the change with energy and passion. Our actions have the potential to be grounded with wisdom and perspective from elders. This exchange is not only necessary, it is essential if we are to sustain for the long haul. People from all backgrounds of any age are invited to join this virtual elder council to listen and engage with elders who generously share their stories to support us all in sustaining ourselves, each other, and the planet.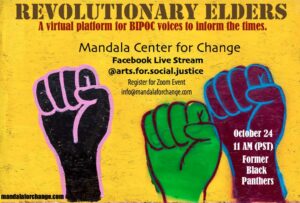 OCTOBER 24 ELDER COUNCIL: Featuring elder activists from the Black Panther Party for Self-Defense: Gary Lilley,  James Robert Ford, and Brad Lilley.
REGISTER TO ATTEND
(Registration gives you access to all three events. New passcodes will be sent each month to join the virtual elder council.)
Monthly themes (subject to change)
OCTOBER
 — "Community Organizing / Mutual Aid"
NOVEMBER
 — "Spiritual Activism"
DECEMBER
 — "Arts Activism"
Get Involved
Community is at the heart of revolution!
If you have time, talent, or monetary means to help this project realize its full potential, please reach out: 
zhaleh@mandalaforchange.com
. Support of any kind is welcome: networking, organizing, funding, idea exchange, or other ways.
If you are a BIPOC elder interested in sharing your story and participating in a virtual event.
If you are a 'younger' from any racial/ethnic background with organizing skills or interest in multi-generational dialogues.
If you are a person in a position to support financially or in other non-monetary ways (e.g. gifting elders or directly offering financial honorariums).