Under construction.
---
Through our coalition efforts we have shut down the detention camps in Tornillo and Carrizo Springs, TX, prevented Ft. Sill in Oklahoma from becoming a detention camp, and seen 1,500 youth released from the Homestead Florida camp.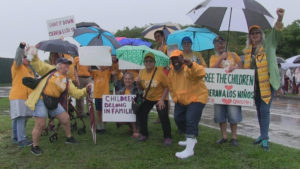 The fact that the Department of Health and Human services is now saying it will eventually close these camps proves that they never had to cage these kids but rather have chosen to carry out the cruel policies of the administration. We need to keep the pressure on Homestead and ensure that the 17 year olds there are released before they turn 18 as they are being handed over to adult detention centers on their birthdays! We will close Homestead and keep on fighting to close all detention centers and get justice for migrants, asylum seekers, and refugees. Here's what we need you to do:

Continue reading→
Coalition of attorneys general file brief supporting restraining order against the Trump Administration
OLYMPIA —
Attorney General Bob Ferguson today joined 19 other attorneys general in support of a lawsuit seeking to force the Trump Administration to provide safe, sanitary conditions for immigrant children it has detained. In their amicus — or friend of the court —
brief
, filed today in U.S. District Court for the Central District of California, the attorneys general assert that the Administration's treatment is in violation of a long-standing court-approved settlement that requires the federal government to meet minimum standards when detaining immigrant children, including safe and sanitary conditions and prompt release or placement.
Read more here
.
Continue reading