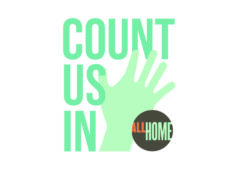 Opportunities from All Home: Count Us In 2020
Mark your calendars: Count Us In 2020, King County's Annual Point in Time Count (PIT), will be happening January 24, 2020! The core purpose of our annual PIT Count is to collect data on the needs of people experiencing homelessness in our community. The count also provides an excellent opportunity to increase awareness of homelessness and to spark action. A successful and accurate PIT Count is an essential component to informing our system response to the need in our community and to ultimately making homelessness rare, brief and one-time.
is now live for registration and will be your resource for anything volunteer related—i.e. communicating with team members, early preview of census tracts, webinars, Q&A, etc. A successful count relies on volunteers and community members like you. Our team at All Home and our new team at VN Research and look forward to working together with you!