Last year Black Lives of Unitarian Universalism (BLUU) began a partnership with Love Resists. Bail keeps people in jail for weeks and even years—away from their families, friends and communities—before they see a judge. Bail traps people in debt, can mean a loss of custody of children, stable housing, employment, and more. The money bail system relies on dangerous and often biased presumptions about Black folks, People of Color, and poor people who have been accused of breaking laws and serves only to criminalize the poor and decimate families and communities.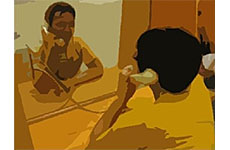 We're inviting congregations and communities to join us for our End Money Bail 2020 Community Kick-Off, a webinar on Wednesday, October 23 at 5 p.m. PT.
Join us as we welcome back partners and leaders from last year's immensely successful Babies & Bailouts campaign and explore new ways to live into our universalist value that no one is free unless all of us are free. If you want to get involved, but can't make the October 23 webinar, sign up and we'll send you a recording of it directly.
Register now: http://bit.ly/EndMoneyBail2020Kickoff
Whether you're unfamiliar with the campaign to end money bail or joining us again after participating last year, we encourage you to form a team to work through our End Money Bail Community Workbook. It's designed to educate, build power, and take collective, informed action. We invite groups to participate and map power, develop skills, create an action plan, and support local and national efforts to #EndMoneyBail.
Will you join us?