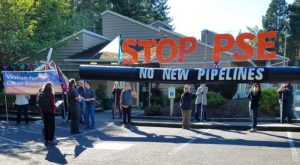 Across the Pacific Northwest, Indigenous land and water protectors are continuing to fight back against the threat of oil and gas exports through their traditional lands. From Wet'suwet'en territory to the Klamath River and beyond, these battles to stop fossil fuels are connected.
Please join a webinar on Thursday, May 28, to hear from Indigenous land and water protectors who are leading fights against fossil fuel export projects in their communities, including the Coastal Gas Link pipeline, Jordan Cove LNG, Tacoma LNG, and the Trans Mountain tar sands pipeline.
What: Pacific Northwest Land & Water Protectors Webinar
When: Thursday, May 28, from 2:00 to 3:30 p.m. PST
Register here for the link to the Zoom meeting
Please RSVP and share the event on Facebook here 
Speakers on the webinar will include Ka'ila Farrel-Smith (Klamath-Modoc Artist), Kanahus Manuel (Secwepemc and Ktunaxa), Brook Thompson (Yurok and Karuk), Dakota Case (Puyallup Water Warriors), Thomas Joseph (Hoopa), and a representative from the Gidimt'en Camp. The panel will share stories from their struggles against the fossil fuel industry and colonization, examine the connections between these battles throughout the region, and tell you how to take action in solidarity with their communities.