From the Church Council of Greater Seattle
Earlier this week, a Facebook post from a member of Redmond United Methodist Church detailed an encounter with a person they now suspect was a US Customs & Border Patrol agent pretending they were in need of shelter, thus entering into a family shelter on church property. The congregation hosts the family shelter with Catholic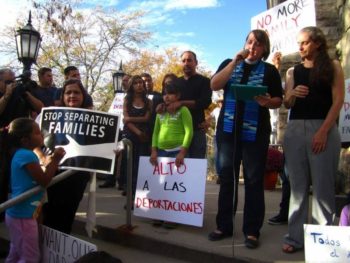 Community Services (CCS). The suspect never identified herself as an agent, but was actively questioning residents about a migrant family with two small children who have lived in the shelter for months. Thankfully, the family the shelter believes was being sought out was not apprehended that evening. Those at the shelter and the wider faith and immigrant rights network continue to gather information on this incident and determine our next collective action steps.
Read a statement on these events as of 11-27-19
This statement is cosigned by Washington Immigrant Solidarity Network (WAISN), Redmond United Methodist Church, Church Council of Greater Seattle, Muslim Association of Puget Sound–American Muslim Empowerment Network (MAPS-AMEN), Centro Cultural Mexicano
The Church Council denounces any attempts to violate "Sensitive Locations" and the sanctity of places of worships and locations where beloved and often vulnerable community members seek refuge. As we continue working together for justice in this increasingly harsh landscape of power abuse, human rights violations, family separation, and predatory policing by ICE and CBP, let us remember the powerful tools at our disposal.
No matter who you are or where you were born, everyone has these constitutional rights:
You have the right to not answer any questions and remain silent! Please repeat this phrase often and teach it to others, "I have the right to not answer questions. I don't answer questions." It is important that allies also assert the right to remain silent and not give away information on fellow community members.
You have the right to not open the door to private locations: In private spaces, ICE or border patrol must have a valid judicial warrant (signed by a judge and with all the correct information).  Often, ICE & CBP try to get into private locations using an administrative warrant (sample here and here), which is not valid for searching private locations. When you click and see the difference, you can start to notice the difference. If presented with a warrant, you have the right to call an attorney to review it, before allowing entry. If entry is forced, you and others have the right to record the interaction.
You have the right to ask for an attorney before signing any paperwork or answering any questions. You can order ACLU cards here in multiple languages to have on hand and give out to your neighbors & community members.
You have the right to film any interaction with ICE, CBP and law enforcement in public locations. You must assert your right and not hide the fact that you are recording. Learn more here from the ACLU and here from Witness.
Never forget that we are here to love each other and protect each other. Even if you don't personally face the threat of harm from these agencies, it is everyone's responsibility to support in defending the rights of our immigrant siblings who face these very real threats every day.
Knowing AND using our rights is an act of community resistance.
Find Resources for Individuals & Churches here!