Justice News, Events and Action Alerts Update
♦ = Immediate Action Requested   ♦ = Event   ♦ = News   ♦ = Article
JUUstice Washington Organizational News

♦ We are pleased to introduce Ansley Silva, JUUstice Washington's new Administrative Assistant. She is an active UU with a deep interest in Climate Justice and First American Indian Nations.  Her professional background is in Conservation Biology, and she has over ten years of experience teaching yoga and meditation.  She is passionate about channeling love into environmental and social justice action.
♦♦♦ Spring…Time to renew your membership in JUUstice Washington. If you have already donated, a big thank you! If not, help us respond to this unusual time by supporting UU justice connections in Washington state and beyond. Like almost all non-profits, our fundraising has been impacted by COVID-19. We know your finances have been too. But if you are able to, please help!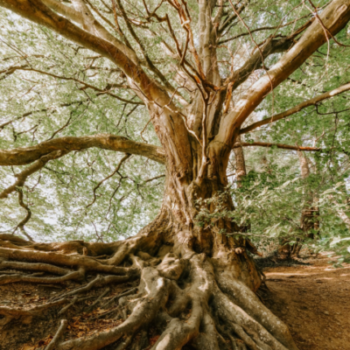 U

UA News
♦♦♦ UUA Virtual General Assembly (GA) Rooted, Inspired, & Ready! June 24 to 28, 2020. We are in touch with our theological roots, we are engaged in transforming our faith, and we are fired up to take action in the wider world. GA is the annual meeting of our Unitarian Universalist Association (UUA). Participants worship, witness, learn, connect, and make policy for the Association through democratic process. Anyone may attend; congregations must certify annually to have voting delegates. This year's online registration fee is much less than the normal fee, and there will be no travel costs, so it is the perfect opportunity to attend. Register Here

News from Our Action Teams
---
♦♦ Join the monthly collaborations call for Strengthen Local Climate Commitments (SLCC), facilitated by Doris Marlin, Wednesday, June 3rd, 5 pm PDT. The Strengthen Local Climate Commitments (SLCC) campaign focuses on enhancing UU civic engagement in local climate transition planning. RSPV here and learn more about SLCC here.
♦ Join UUs for a Just Economic Community for a webinar: Climate Crisis, like COVID-19, is a Global Health Threat; & Managing the Health Effects of the Climate Crisis. Thursday June 11, 5:00 pm PDT. To join our Webinar, please click here.   More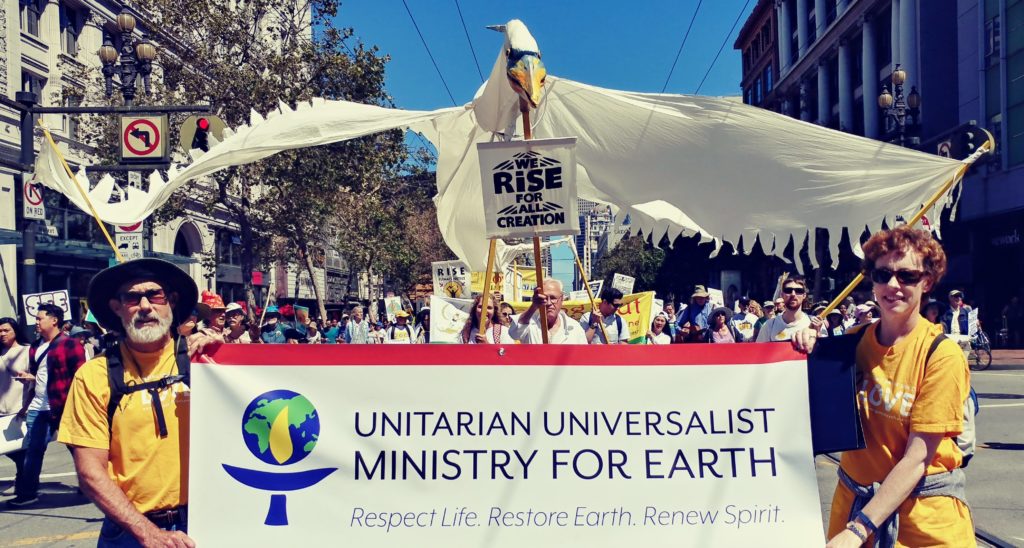 ♦ Learn how to utilize CreateClimateJustice.net (CCJnet) to network with other climate justice activists across our faith. Join a live Intro Tour & Q&A event with the CCJnet Outreach Specialist, Diane Brooks. She will help you learn how to navigate and feel confident using this amazing resource. Tutorials happening June 3, 9 at 4 pm and June 15 at 5:30 pm. More
♦ As a part of the online General Assembly June 24-28, the UU Ministry for Earth will have several workshops and a virtual booth. More details will be available here.  In addition, Create Climate Justice is supporting seven workshop sessions, social witness/action, pre- and post-GA programming, and film screenings. Stay up to date on GA climate justice happenings and connect with other UU climate leaders attending GA by joining the "General Assembly (GA) 2020" group on CreateClimateJustice.net.
---
Economic Justice Action Team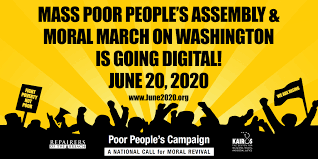 ♦ Poor People's Campaign Digital March on Washington, June 20, 2020. PPC will hold the largest digital and social media gathering of poor and low-wealth people, and people of conscience in this nation'shistory. The COVID-19 global pandemic is exposing the already existing crisis of poverty in America, and we are going to bombard every member of Congress and the White House so that we raise up the demands of the Poor People's Campaign: A National Call for Moral Revival. More
"This virus is teaching us that from now on, living wages,
guaranteed health care for all, unemployment & labor rights
are not far left issues, but issues of right vs wrong & life vs death."
~ Rev. Dr. William J. Barber
---
Refugee,
Immigrant and Migrant Solidarity (RIMS) Action Team
♦♦ Northwest Immigrant Rights Project and the Washington Dream Coalition (WDC) are joining forces with a coordinated, statewide relief effort known as All in Washington, which will provide an opportunity for all new donations to the COVID-19 Relief Fund for Undocumented Individuals in Washington State to be matched. This fund is already providing critical support to thousands of families in Washington who do not have access to unemployment insurance system or federal stimulus payments. More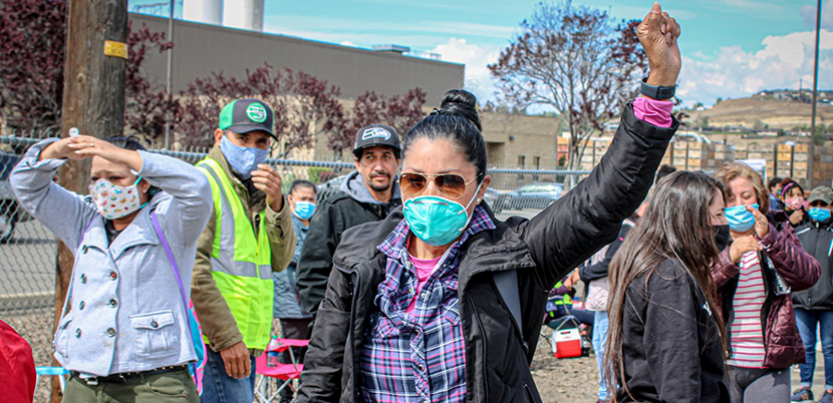 ♦ Familias Unidas por la Justicia and Community to Community Development are currently supporting six farmworker strikes in Yakima County in solidarity with workers who have walked off the job due to health and safety concerns around Covid-19. Workers at Allan Brothers Fruit walked out on May 7 after at least 14 of their co-workers tested positive for Covid-19. Yakima County has the highest single-county infection rate of coronavirus on the West Coast. Thanks to pressure from farmworkers and their advocates Emergency Rules for Housing in Agriculture went into effect on May 18. However these rules are not adequate for this pandemic as they do not require the ratios for housing, showers, sinks, cooking and food storage facilities, laundry, and bunkbeds to reflect CDC social distancing protocols and will likely lack proper enforcement. You can support by taking any or all of the below actions!
Be on the lookout as other migrant farmworkers throughout the state are also organizing strikes.  Read more here.
♦ Why COVID-19 is hitting Washington Latinos especially hard. In the past month, the proportion of confirmed cases among white people in Washington dropped by 10 percentage points — down to 47%, while making up 68% of the population. Communities of color, meanwhile, now account for a larger share of positive tests. Black people make up 7% of all cases, despite representing just 4% of the population. Among Hispanic or Latino people, confirmed cases jumped by nearly 10 percentage points since mid-April, to 31%, compared with their 13% share of the overall population.  Read more here.
---
First/American Indian Nations Solidarity (FAIN) Action Team         
♦ Through the efforts of several congregations or fellowships two films will be screened on Sunday afternoons in June 2020: 
Sunday, June 7, 12-2:15 pm, Doctrine of Discovery, Unmasking the Domination Code, the film based on Steven Newcomb's book Pagans in the Promised," will be shown via zoom reservations.  JUUstice Washington president Deb Cruz will be joined by Mennonite Coalition to Dismantling the Doctrine of Discovery leader Jonathan Neufeld to discuss the film with Learning Right Relations Pat Rasmussen, they'll talk about what dismantling means to them, and focus on efforts growing across the country to stand in solidarity with the first nations of turtle island.  A Q and session is planned.
Sunday, June 21, 1-3:30 pm, The Indian System, the film about the lead-up to the Dakota Uprising of 1862.  We will be joined by Sheldon Wolfchild the film's Producer and Director.  Mr Wolfchild's personal story is part of the fabric of this history, as his grandfather was one of those executed.  You can assist with publicity. The poster for the film will be available for distribution when it arrives from Minnesota.  Sheldon, spoke this week about the fires in Minneapolis being correctly referenced by a Minnesota political leader who said, 'these fires of injustice have been burning for 400 years.'  Director Wolfchild will present the history behind the making of the film and looks forward to questions around the best ways forward during this time of fire in the streets, again.
The registration form is being completed and can be accessed with a request to learningrightrelations@gmail.com.      Poster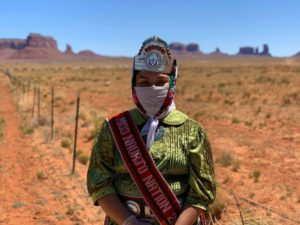 ♦ The Feds Gave a Former White House Official $3 Million to Supply Masks to Navajo Hospitals. Some May Not Work. Zach Fuentes, President Donald Trump's former deputy chief of staff, secured the deal with the Indian Health Service with limited competitive bidding and no prior federal contracting experience. The IHS told ProPublica it has found that 247,000 of the masks delivered by Fuentes' company — at a cost of roughly $800,000 — may be unsuitable for medical use. An additional 130,400, worth about $422,000, are not the type specified in the procurement data, the agency said.  Read more here. (Photo:  Miss Navajo Nation Shaandiin Parrish. Photo: Navajo Nation Office of President and Vice President) 
♦ Currently there are two bills before our federal legislators.  Take action and contact the folks below.
S. 3622 – Indian Tribal Government Coronavirus Disaster Assistance Cost Share Relief Act, which would waive the 25 percent non-federal cost share that tribes must currently provide to receive disaster assistance through FEMA and S.3666/H.R.6819 – To fund grants for the immediate deployment of temporary wireless broadband service on Tribal lands and Hawaiian Home Lands, to provide emergency special temporary authority to use electromagnetic spectrum for the provision of wireless broadband service on Tribal lands and Hawaiian Home Lands, and for other purposes.
Contact Congress and Committees and ask them to move forward!  Here's who to contact . .
---
♦ Puget Sound  and Central Washington Spring Summits.  During June this year, FAN hold will hold the Regional Spring Summits for Puget Sound (June 7th) and Central Washington (June 14th) online. Advocates gather to talk about how our legislative agenda fared during the past session and strategize for the rest of the year on issues they care about most. This is a time to raise ideas for next year's legislative session too. Together, we look for new ways to be more effective at creating lasting change.  Registration is required.
---
Criminal Justice Reform Action Team          
♦ A New Normal? Amid COVID-19, Criminal Justice Reform Funders Dare to Hope.  As of early May, advocates' calls to curb mass incarceration in the name of public health have been successful, to a degree. Thousands upon thousands of people have regained their freedom from jails and prisons in jurisdictions across the country, fewer arrestees are entering the system, and measures are being taken to reduce unnecessary face-to-face contact while administering probation and parole. Those decisions are largely for local officials to make, but there's a great deal that philanthropic funders have done—and can continue to do—to address the threat COVID-19 poses to incarcerated people, and by extension, the public at large. Read more here.
---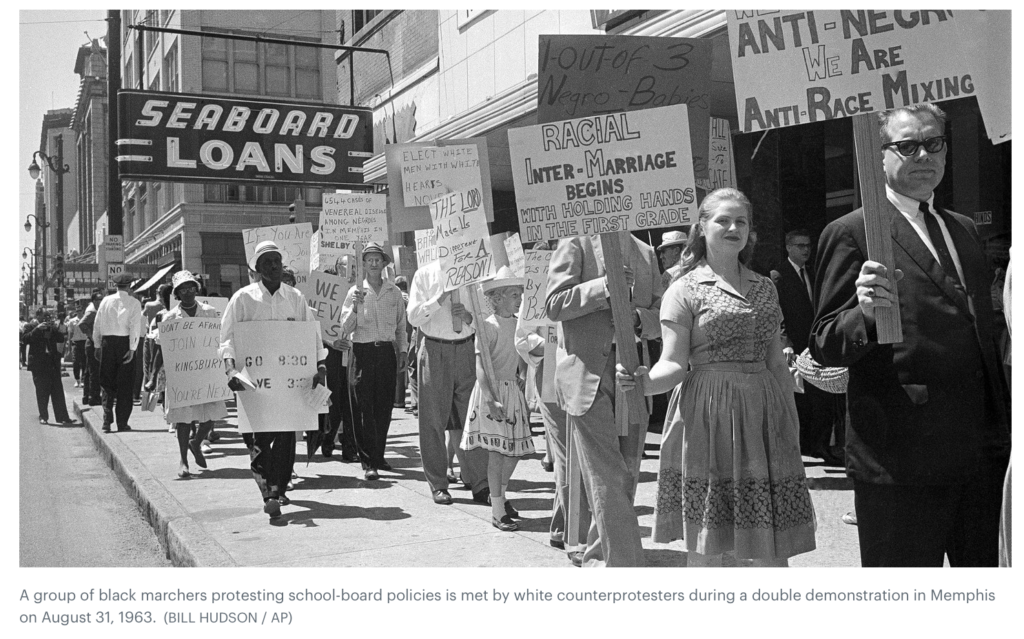 ♦ How White Backlash Controls American Progress. The backlashers have been out in force at recent anti-social-distancing protests, which have been dominated by white people proclaiming that public-health measures to prevent the spread of COVID-19 are robbing them of their birthright of liberty. Making the connection to prior backlashes explicit, some protesters have waved Confederate flags and held signs that read give me liberty or give me death. While in some ways laughable, given their complaints about being unable to get a haircut or having to "get two iced teas in the drive thru," some of the protesters also incite fear, with their ostentatious weapon-wielding and threats of violence, to say nothing of their willingness to potentially infect others with the coronavirus. Drawing upon the template of the backlashes of earlier historic moments, these protesters, too, combine the paranoia and insecurity that have long warped our political culture with acclamations of freedom for some at the expense of freedom for all. As during Reconstruction and the civil-rights era, we face once again the danger that a politics of freedom and equality may be eclipsed by the psychology of white resentment.  Read more here.
---
Featured Film:   
ONLINE VIEWING & DISCUSSION of Living the Change: Inspiring Stories for a Sustainable Future, 5:30 pm-film, Discussion 7:00 pm on May 31, 2020.  
"Living the Change," an 85 minute documentary that explores solutions to the global crises we face today – solutions any one of us can be part of – through the inspiring stories of people pioneering change in their own lives and in their communities in order to live in a sustainable and regenerative way. Directors Jordan Osmond and Antoinette Wilson have brought together stories from their travels, along with interviews with experts able to explain how we come to be where we are today. From forest gardens to composting toilets, community supported agriculture to time banking, "Living the Change" offers ways we can rethink our approach to how we live.
For other Movies for Justice, please check out the JUUstice Washington calendar or the Meaningful Movies® Website.  Meaningful Movies has a number of online screenings available so check out the website!
Featured Flash Stance 
♦ As of now, regularly scheduled flash stances, vigils, rallies and protests have been cancelled due to COVID-19. Please watch our calendar as Washington's economy starts to open.
Wellness for Justice Activists 
"When one is building a ship, one does not begin with gathering timber and cutting planks, but rather by arousing in people the yearning for the great wide sea." — Antoine de Saint-Exupéry.