Voter Protection Hotline. The vast majority of voting experiences will be easy, but there may be challenges in select locations. Make sure you and your community know to call or text 1-866-OUR-VOTE or visit 866ourvote.org for live answers to any questions about voting rights and procedures, or to report any issues you experience or witness at the polls.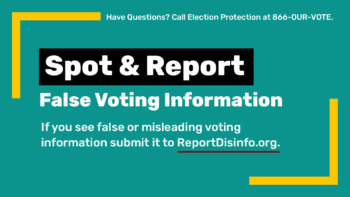 2. Beware of Disinformation. It's human nature to want to share something alarming you see online. But know that active disinformation isn't just possible this year, it's likely. And disinformation campaigns can be powerful ways to scare people from voting. So please, in these next few days — and especially on Election Day — only share stories or reports you see from reputable journalists or state and local elections officials.
If you see disinformation about voting in an online post or ad, do your part to stop the spread. Don't engage, react or comment — that only means more people will see it!
Do take a screenshot to submit it to ReportDisinfo.org. Then share official voting information, like your local election official or Secretary of State. Do your part to keep voters safe from disinformation!
3. Town Hall Pledge. We don't endorse candidates at Town Hall Project, but we love to highlight candidates who've taken the common-sense Town Hall Pledge to hold regular town halls (virtual until its safe again) with their constituents. Over 100 candidates this year have taken the pledge, including dozens of sitting members of Congress. If you have friends still making up their mind, let them know why accessibility and accountability are essential qualities in a public servant: townhallpledge.com