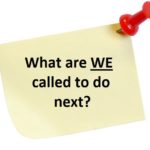 At the close of the 2018 UU Justice Summit,
we assessed our day — what we had accomplished and what we were called to do next.  Here are our answers to the question: What are WE called to do next? In random order:
Speak out for our planet with concrete ideas.
We are called to learn and grow in our ability to be effective justice leaders.
Continue work on white privilege.

Connect.  Encourage.  Support one another.
Called to work for the advancement of human's ability to live sustainably.
We are called to stay curious and open.  Judy
To be the organizing platform for people of faith in WA.  (UUs and others)  Julia Cochrane
We are called to stay in community – especially when it is hard.  Judy
Stay engaged.  Be allies / follow / stand by POC.  Move together.  Work together.
Elect political reps that will support climate change legislation.
Provide legislative planning tools to local government organizations on climate change.  What is their response to climate change?  How will local governments protect citizens?
Work together using resources toward solutions.  Phil Myers
Speak out for our planet with concrete ideas.
Continuous work on white privilege.
Engage in Community.
Create the beloved community in the world – beginning with where we are.
Follow example(s).
We are called to evolve a powerful, effective, transforming JUUstice Washington.
Develop JUUstice Washington to include more people of color or form a working relationship POC organizations.
We are called to stay humble.
Look deep.  Feel what is happening.  Take one step.
Sacrifice.  Model.  Speak out.  Act with conviction.  Gary Piazzon
Build a more effective network – both between us and among other faith and advocacy groups.
Be more visible as UUs on political issues.
Continue finding opportunities to right the wrongs of injustice in every area of our culture.
We are called to give up our money and risk our lives to make the U.S. fair.
Join other in Social Justice work.  Listen to marginalized people before acting.  Judy Kleinman
Make the family, community, country, world a better place.
Vote to pass I-1631.
We are called to continue our work as leaders in the social justice movement.
Speak up for justice.  Be a presence.
Urge our ministers to give climate change sermons.
Share research and practices of spiritual healing and nurturing to help us sustain ourselves as we do the difficult work of social and racial justice.  Leslie Schmidt
Stay focused.  Roxanne
We are called to increase our collective abilities to leverage needed social, ecological, and economic change.
We are called to listen to those who are marginalized.
We are called to lend our power to those who are powerless.
Hear the voices of people of color – be the allies/accomplices they need.  Do our own white work.  Louise Wilkinson
When setting a legislative agenda, follow the lead of the Poor People's Campaign.
Learn how to use EDI guidelines as a valued part of our discussion process.  Gretchen Faulstich
We are called to continue nurturing the development of the newborn JUUstice Washington from an EDI lens.  Cynthia Good
Run with the positive momentum!
Grow.
Spread the learning.
Organize effectively.
We are called to shine the light on Justice — so bright it casts a shadow.
Promote climate action ! !
We (the new JUUstice WA) need to examine how we could have done better today.  For example, No ONE introduced Exquisite Erika before she took the mic.
We are called to turn back the tide of white resistance to structural change in our white supremacist culture.  Maury Edwards
Keep talking and showing up for legislative and local activities, needs.
NEVER GIVE UP.
Act together to influence change.
Turn off the TV and work as community to overcome the propaganda by which we have been divided and enslaved.
Support each other in our JUUstice Journey.   Jenny Hall
Forget our fear and put LOVE first.
Foster equity in WA State.
Try to interconnect with other faiths concerning immigration issues.