On September 30th, Demos and Boston University Center for Antiracist Research will host The Other Swing Voter: Visioning Forward virtual convening from 8 am to noon PT.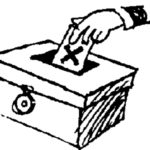 THE OTHER SWING VOTER is defined as voters who oscillate between voting and not voting (or voting third party). These voters are predominantly young, Black and Latinx, and they must be at the center of antiracist electoral organizing strategies, power-building, and policy analyses.
During this afternoon of political education, Black and Latinx grassroots political organizers, as well as researchers and policymakers, will detail how to build cross-sectoral relationships that allow knowledge sharing, analysis, and the development of freedom-forward strategies for organizing and sustaining this voting bloc. More information and program.