(If anyone knows of UU congregations or allies and partners who are planning to participate in any landback program, please email Deb Cruz (
dwcruz@comcast.net
) and Susan Leslie (
SLeslie@uua.org
).)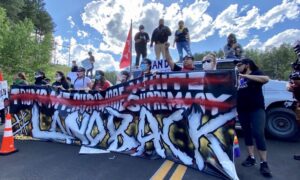 Republished from Sunrise
For many Native Peoples, Thanksgiving is a complex day. For some, we use this day to mourn and protest as this day evokes the legacy of colonialism and the intentional false narratives about the relationship between Indigenous Peoples, early settlers and the Land. For some, we use this day to honor our survival against genocide and we reclaim this time to celebrate the sovereignty and self-determination we've protected despite all odds.
No matter how you celebrate or protest, the launch of NDN Collective's #LANDBACK Campaign represents a way to face the truth about this country's history and treatment towards Indigenous Peoples. Starting with acknowledging whose land we gather, live and work on. And commit to being in a right relationship with Indigenous Peoples, by supporting the return of Indigenous Lands to Indigenous hands.
By acknowledging the true history of this holiday and supporting LANDBACK, we are able to begin healing from the destruction and violence that colonization has imposed upon Mother Earth and the People. This is especially critical for advancing climate justice and supporting climate solutions led by Indigenous Peoples. We are building a movement for collective liberation, that starts with the reclamation of stewardship of the Land.
If you are called to take action to build Indigenous power, we have action items to share with you:
Sign this petition to return the sacred Black Hills to the original stewards and close Mt. Rushmore.
Sign the Climate Mandate and call for the Biden Administration to appoint Representative Deb Haaland as Secretary of the Interior.
We call on our allies to support, donate, and amplify our #LANDBACK campaign and join this movement for collective liberation.
Lastly, we hope that you all are staying home and respecting the CDC COVID-19 precautions during this holiday season. We must not forget that germ warfare has been used against Indigenous Peoples throughout history and it is imperative that our non-native allies consider this history. Take flattening the curve very seriously, and be very cautious and sensitive when traveling through or near Indigenous lands and territories.
We wish you safety and health during this time,
Néa'eše
Krystal Two Bulls,
LANDBACK Campaign Director
NDN Collective
Learn More About #LANDBACK and watch HESAPA: A LANDBACK FILM
CNN article: "How Indigenous People Are Reclaiming Their Lands"
Grist Article: "Returning the Land: Indigenous Leaders On the Growing LANDBACK Movement and Their Fight for Climate Justice"
Sign up for the NDN Collective newsletter here