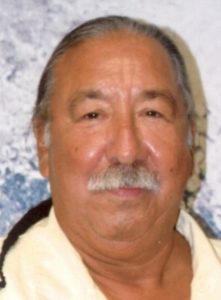 For those of you not familiar with Leonard Peltier, he is a "political" prisoner related to events on Pine Ridge Indian Reservation in 1975 where two FBI agents were shot and killed.  Amnesty International placed his case under the "Unfair Trials" category of its Annual Report: USA 2010 (https://www.amnestyusa.org/reports/annual-report-usa-2010/4/).
More info on Leonard Peltier can be found at a number of online sources, however there is and article/review on a book by Peter Matthiessen entitled "United States v. Leonard Peltier."  While I've not read this particular book, I have read several other books by Matthiessen that have been excellent reads and comparably accurate.  The article is at:  https://www.nybooks.com/articles/2000/07/20/united-states-v-leonard-peltier/.
Larry Hildes, a Bellingham attorney, is currently working with Leonard Peltier and his legal matters.  Larry states that, currently, Leonard is requesting a prison transfer from the Coleman institution in Florida to the institution in Oxford, Wisconsin.  We are being asked to write letters of support for this transfer as quickly as possible.
A letter of support might look like the following.
To whom it may concern:
LEONARD PELTIER (Peltier) Inmate Register number 89637-132 has requested a transfer from the facility at Coleman, Florida to the facility at Oxford, WI. I am writing to support Peltier's transfer.
The reasons for transferring Peltier to Oxford include
Oxford is approximately 1,300 miles closer to Peltier's home and family
Oxford is closer to the Native communities related to Peltier
Peltier has multiple medical issues some extreme and potentially life threatening
Oxford is in proximity to the Mayo Clinic and Federal Medical Clinic Rochester
Transfer from Coleman to Oxford is therefore consistent with the spirit and intent of BOP policy and will serve to allow more familial visitation and improve medical services to Peltier. Therefore, the transfer should be permitted.
Send your letter to:
 
Designation & Sentence Computation Center
Email: GRA-DSC/PolicyCorrespondence@bop.gov
Phone: 972-352-4400
Fax: 972-352-4395
Snail Mail- DESIGNATION & SENTENCE COMPUTATION CENTER
GRAND PRAIRIE OFFICE COMPLEX
346 MARINE FORCES DRIVE
GRAND PRAIRIE, TX 75051