---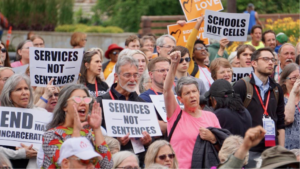 We invite you to participate in Taking A Collective Breath: Deepening our alignment with the Movement for Black Lives, a five-session series built around the elements of the BREATHE Act. The webinars will explore the components of the BREATHE Act and utilize its structure as a way to focus our energies to effectively support ongoing racial justice work. Come learn and build with local and national partners who are shaping conditions to make liberation possible. This is an invitation to locate yourself in this moment as well, we each have a role to play.
The BREATHE Act seeks to reform federal laws and eliminate funding for federal programs that criminalize Black, Muslim, and immigrant communities, reinvesting our resources in community solutions for education, health, and the environment.
Register any time, for one session or the entire series. Sessions will be available online for later viewing, with registration. 
Continue reading