Justice News, Events and Action Alerts
♦ = Immediate Action Requested   ♦ = Event   ♦ = News
Organizational News
♦♦ JUUstice Washington is looking for a part-time co-administrator. If you are a person with a passion for supporting social and environmental justice activism and the flexibility to use multiple skills to problem solve, we urge you to apply . Familiarity with technology is important and a commitment of at least three years is preferred.
Click here for the full job description and information on how to apply.
♦♦ JUUstice Washington is also looking for a volunteer accountant or bookkeeper for approximately 10 hours of work per month. More
♦♦ Correction to our eblast, After L, G and B, sent out on March . Two references were left off the blast:
We also missed some wording changes. Click here to see the corrected copy.
News from Our Action Teams
Economic Justice Action Team
♦ April 12, Seattle: The Interfaith Task Force on Homelessness meets on the second Wednesday of each month from noon-1:30 pm. April's meeting is on the 12th at at University Congregational United Church of Christ, 4515 16th Ave. NE., Seattle, in the first floor chapel. PARKING is free in Lots A (across from church entrance on 16th) and C (on corner of 45th & 15th, otherwise a pay lot). Note your parking space and sign in with license plate # and space # outside church office door. Coffee, tea, juice, snacks, BYO lunch. More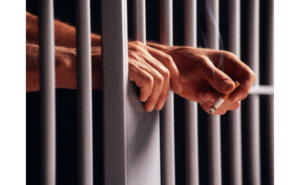 Criminal Justice Reform Action Team
♦ April 13, Everett WA: A film showing on the school to prison pipeline will take place on Saturday, April 13th, 6:30 pm, at Everett United Church of Christ, 2624 Rockefeller Ave, Everett, WA.
♦ On the 28th of April at 4:00 pm, Aisha Hauser and some of the Black Lives Matter UUs will be presenting a Symposium on the issue of "Cash Bail," providing information and support for Moms currently in the system. Email Aisha Hauser, MSW, Director of Lifelong Learning, or call 425-747-3780 ext. 104 for further information
♦ April 6, Redmond: Meet Your Muslim Neighbors: Ramadan and Values in Islam, April 6, 2-3:30 pm Redmond Library, 15990 NE 85th St, Redmond. Hosted by Muslim Community Neighborhood Association. More

♦♦ April 28, Bellevue: The April meeting of East Shore's Race and Identity Class is scheduled for April 28th at 9:00 am. It is held at East Shore Unitarian Church, 12700 SE 32nd Street, Bellevue, WA. This once-a-month series will be led by ESUC Director of Lifelong Learning, Aisha Hauser. Aisha will lead participants in discussions about how race and identity shapes our experiences and our understanding of social justice issues. Contact Aisha for further information.
First/American Indian Nations Solidarity (FAIN) Action Team
♦♦FAIN and JUUstice Washington will be joining the Native American Connections Committee of the Bellingham Unitarian Fellowship at GA this year with a workshop entitled "Truth and Reconciliation-Healing the Past and Looking Forward."  Deb Cruz and Beth Brownfield will have the honor and pleasure of bringing with them to GA, Shirley Williams, Lummi Nation member and co-founder of Whiteswan Environmental and Shirley Hardman, Senior Advisor on Indigenous Affairs at the University of Fraser Valley, British Columbia.
Registration for GA is now open. Rates increase May 1.
Refuge, Immigrant and Migrant Solidarity (RIMS) Action Team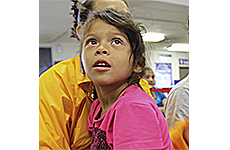 ♦♦ An urgent ask from Al Otro Lado: Do you have people in your network who can help companion children who were separated at the border to be reunited? Read more here and fill out this form to express interest in volunteering as a companion. There is an info session online Wed. April 10th at 5 pm PDT for you to learn about expanding sanctuary through sponsorship and accompaniment. Register here.
♦♦ SB 5438, under consideration by our legislature, represents a significant step toward protecting the safety and dignity of workers brought to our state under the H-2A farm labor program. It is the top priority this session for Rosalinda Guillen and Community to Community, and Ramon Torres, President of FUJ, leaders in addressing the issues of migrant workers in this State.  It has been passed by the Senate and, as of our date of publication, is in the House Labor and Workplace Standards Committee.  We need your help to get it out of the committee and onto the House floor for a vote. More
Climate Justice Action Team
♦♦ The Department of Ecology is accepting public comment on the North Seattle Lateral Pipeline Expansion's water quality certification appeal through April 1st.  Let them know this project's negative impacts on water quality can't be ignored, any more than its long-term impact on our climate can! Please take this opportunity to comment AGAINST the North Seattle Lateral Pipeline Expansion ASAP. Here's the link.
♦ Climate bills advance in the legislature – Four climate bills have been introduced, passed committees and passed at least one chamber of the Washington State Legislature. They involve "Clean Energy" (100% renewables for electricity), electrification of transportation (incentives for electric vehicles), "Clean Fuels" (reduced fossil fuels in fuels), and hydrofluorocarbons (highly potent greenhouse gases). The first two have good chances for passage but the latter two have strong opposition. More
Featured Film and Discussion April 9th in Seattle
♦ April 9th, Seattle: Town Hall joins forces with Community Alliance for Global Justice (CAGJ) to screen the powerful new film, Salmon People, and call together a panel of indigenous and advocacy perspectives—all key activists working on Northwest Native food sovereignty and justice in the Pacific Northwest. Sit in to hear from the voices across the region speaking out about the risks of genetically engineered fish. More
For other Movies for Justice, please check out the JUUstice Washington calendar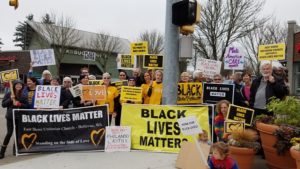 Featured Flash Stance April 7th, Bellevue WA
♦ Join Fellow UU activists and others for a Black Lives Matter Flash Stance. We will be standing against the marginalization of people of color in an attempt to start conversations in the lives of people that see us. We'll meet at 12:30 pm near Factoria and 36th, by Dacel's Jewelers, in Bellevue, WA. Join East Shore UU in this important work.
For this and other scheduled protests, vigils, flash stances and rallies, please check out the JUUstice Washington calendar
Wellness for Justice Activists (tips and inspiration coming soon)