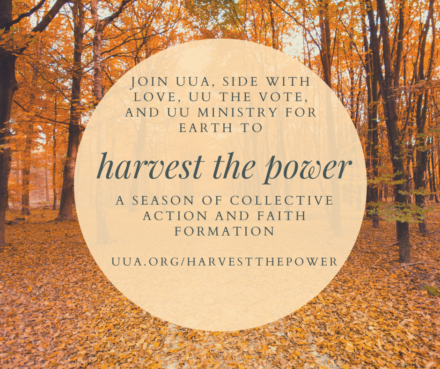 On October 1st, the Harvest Moon will rise shortly after sunset in the Northern Hemisphere. This burst of evening light provides an extended time for farmers to harvest summer crops and plant new seeds for the Fall Season.
What and how have you grown this summer — personally, in connection to your community, and in connection to movement uprisings for justice?
Unitarian Universalists are invited to mark this seasonal transition by reflecting on this question in the Harvest moonlight, and setting intentions to Harvest the Power of community this Fall through a sprint of collective action and faith formation weaving together all Unitarian Universalist justice ministries. This is a shared endeavor between UUA, Side with Love, UU the Vote, and UUMFE.
October 21-27 Week of Action with UU the Vote
November 4-18 Post-election Virtual Spaces for Community Care & Formation
November 19-22 Virtual Justice Convergence & Decolonization Teach-In
November 26 Plymouth Day of Mourning 50th Anniversary Virtual Observance (hosted on Side with Love and UUA FB page)
Ahead of these events, ground yourself in our theological grounding around decarceration, decriminalization, and democracy. Learn More.
In faith and solidarity,
Aly Tharp
Program Director, UU Ministry for Earth
Create Climate Justice Manager, UUA Organizing Strategy Team