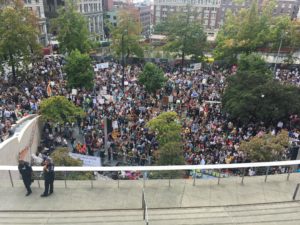 The climate strikes of September 20, 2019 involved millions of people all over the world: at least 900 strikes in the U.S. and more than a dozen in Washington State. In Seattle, the largest strike in Washington involved more than 5000, including 2000 from Amazon who converged with those coming from Capitol Hill to city hall. Signs carried by marchers included "Our Children's Future," "If you don't act like adults We will," "Act now or swim later," and "Not the hot girl summer I had in mind," based on an internet meme. Speakers at city hall emphasized the urgency of the crisis and called for zero emissions by 2030. Just prior to the strike, CEO Jeff Bezos of Amazon said that the company would try to reach zero net emissions by 2040 but his employees demanded faster action.
A number of UU's participated in the strike, including thirty from University Unitarian Church, along with the senior minister, Jon Luopa, and assistant minister, Beth Chronister. Other churches in the Seattle area were well represented, and UU's throughout Washington State joined strikes in their areas.
The climate strike preceded a UN climate summit in New York where Secretary General Antonio Guterres implored world leaders to increase their commitments under the Paris Agreement. Although the Trump Administration has said that the U.S. will withdraw from the agreement (effective in November, 2020 the day after the election), most world leaders will respond. With current commitments, the world is on track to a 3.5 degree Celsius future, far above what scientists consider safe. The Paris Agreement has a mechanism for reviewing commitments every five years to make them more commensurate with the science.