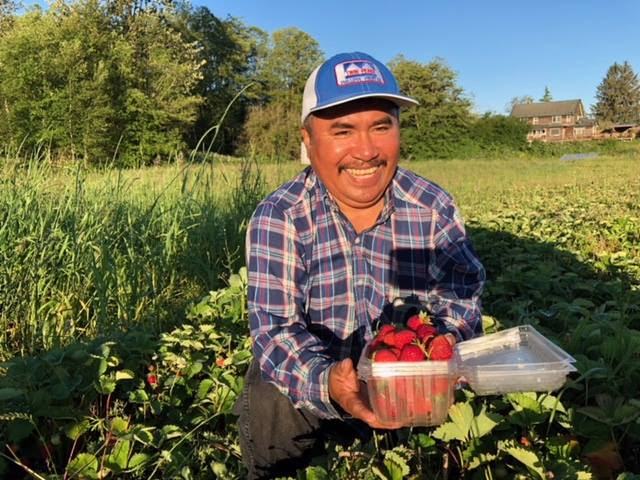 Modesto is one of the founding farmworker owners of Cooperativa Tierra y Libertad (Land and Liberty Cooperative), a new worker-owned cooperative formed by four farm workers from Whatcom and Skagit Counties.
Working with Community to Community (C2C), a Bellingham-based food sovereignty organization, the founding members have undergone a rigorous educational process on how to build their own cooperative enterprise doing what they love most; growing good healthy organic berries and vegetables.  This process is a hands on culturally appropriate learning experience literally from the ground up!
With support from C2C and another organization called Communities of Concern they have accumulated enough capital to farm on a 65 acre parcel of organic land with a lease to own contract.
The land is located in Everson Washington on Central Rd.
The long term vision of C2C and Tierra y Libertad is to build a cooperatively owned farming community with five families living on the land.
YOU CAN HELP BUILD THIS VISION BY DOING 2 THINGS
Buy their berries, all organic: strawberries, raspberries and blueberries
Donate directly to Tierra y Libertad to help cover farm operating expenses and also help accumulate capital to purchase the land
To order berries or to schedule sales at your congregation e-mail tierraylibertad@qwestoffice.net
To donate mail a check to: Tierra y Libertad, P.O.Box 963, Bellingham, WA 98227