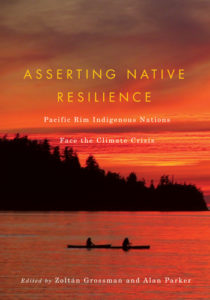 Zoltán Grossman and Alan Parker, Editors
Foreword by Billy Frank, Jr.
Indigenous nations are on the frontline of the current climate crisis. With cultures and economies among the most vulnerable to climate-related catastrophes, Native peoples are developing responses to climate change that serve as a model for Native and non-Native communities alike.mmAsserting Native Resilience presents a rich variety of perspectives on Indigenous responses to the climate crisis, reflecting the voices of more than twenty contributors, including Indigenous leaders and Native and non-Native scientists, scholars, and activists from the Pacific Northwest, British Columbia, Alaska, and Aotearoa/New Zealand. Also included is a resource directory of indigenous governments, non-governmental organizations, and communities that are researching and responding to climate change and a community organizing booklet for use by Northwest tribes.