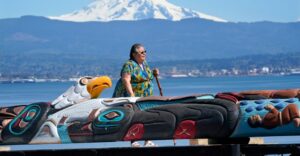 Below is the the bare bones schedule of stops so far on the 
Red Road to DC Totem Pole Journey
.  For details right now, you have to go the the "
Our Shared Responsibility
" Facebook page and look up events. The schedule is changing minute by minute so please follow on Facebook!  Please pass this information onto all your family, friends, networks, associations and connections. All are welcome and encouraged to attend.
*
Lummi Nation House of Tears Carvers, led by Master Carver Jewell Praying Wolf James, is based in Bellingham, WA is renown for its Totem Pole Journeys.  The House carves Totem Poles and gifts them to Tribes and Nations across the North American continent.
*
This year they are doing the Red Road to DC having carved a Totem Pole in honor of Sacred Sites, bringing attention to, and promoting the protection and restoration of, sacred lands, landscapes, and waterways.   The Journey will also bring attention to the urgent need to address the crisis in Xw'ullemy (the Salish Sea), and to the sacred obligation to restore and protect waterways critical to the future of the salmon.   It will also stop for ceremony and special events in other areas that are threatened by unsustainable destructive practices we see here in our home waters.
*
There are two tours the Northwest/West Coast tour and the National Tour.  The West Coast Journey which began locally on 21 April 2021, will visit Tribes/Nations and communities up and down the West Coast starting here in Washington State and stopping in Oregon and California.  It will continue until the National Tour which will begin some time in July.
*
The National Tour will then take the Totem Pole cross-country visiting Chaco Canyon, Grand Canyon, Bears Ears, Black Hills and Missouri River.  There may be a stop in Minnesota for Line #3 as well.  They'll take the Totem Pole to Washington DC and it will be presented to Biden and an exhibit within the Smithsonian.  The final placement of the Totem Pole will be up to the White House and the Smithsonian.
*
PLEASE DONATE!!
  This Journey would not happen if not for the continuing generosity of communities along the way.  Funds will be used to cover costs of gas and to provide food and lodging for the 6-person crew coming your way.  Small and large donations are very gratefully accepted and appreciated.
DONATE HERE!
*
"The protection of Indigenous sacred places, Ancestors, cultural items, medicines, and cultural ways of life are paramount, and Native Nations', traditional societies', ceremonial grounds', and Indigenous spiritual leaders' authority on these matters must be given full weight and center around Indigenous free, prior, and informed consent​. These are matters that pertain to: our self-determination; our families, past, present, and future; and our ability to practice our ways of life. They represent a sacred duty and traditional law, which are indigenous to these lands.
*
The harms done to our sacred places, Ancestors, and cultural ways of life violate our natural rights, constitutional rights, natural & spiritual laws, and individual freedoms. These harms have taken an immeasurable toll on the health, safety, welfare, and well-being of our Peoples and caused drastic and intergenerational trauma, sickness, loss, and death.
*
The need for the journey is part of an old story written across all indigenous lands.  It is a story of coercion and violence, with new players, big money,  and cooption of corrupt politicians and coopted agencies.  The Indians are in the way of 'progress':  Indians and their sacred grounds, their burial grounds, their customary way of life, and  Indians who value family and future generations above short-term profit.  The Red Road totem pole journey from the Salish Sea to Washington, DC,  tells our story in our terms,  based on our history,  and based on our ancestral, inherent rights.  It is a journey for now, for our ancestors, and for future generations."
*
Here are some links to the Journey to provide some background on Totem Pole and the Journey.
*
This is the place to follow them on the Journey and the events are listed here as well.  On many of the events pages is listed the contact info for the event coordinator should you have any questions 
https://www.facebook.com/totempolejourney
*
*
*
Respect to COVID protocols will be adhered to.  Mask up and Social Distance!  Protect our Elders!
*