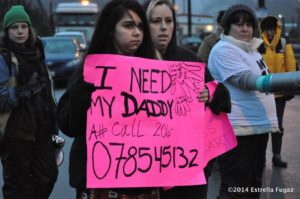 From Faith Action Network:
Many of you are already responding with compassion and care for your immigrant neighbors. We are always looking for additional resources to share with our statewide network to maximize the role faith communities can play in response to workplace raids, detentions, and deportations.
With El Centro de la Raza and the Anti-Defamation League, FAN is hosting a Sensitive Location Webinar on Thursday, September 5, at noon. Spend your lunchtime with us as we talk about how places of worship are sensitive locations and can protect immigrants. Click here to register. Instructions will be shared for you to join via Zoom web conferencing once you register.
We know in Yakima, faith communities have been engaged with the Yakima Immigrant Response Network in witnessing ICE flights and transportation to the Northwest Detention Center. They are hosting an ICE Raid Verifier Training next week, Thursday, August 29, at 6:30 at Central Lutheran Church in Yakima.
From the Washington Immigrant Solidarity Network (WAISN) there are several calls to action this week: "The core of our Deportation Defense strategy is rapid response teams. These teams work together to verify ICE activity so that we can report back to the community where ICE is operating and whether or not they have detained people. Are you part of a team or know someone who is? Do you want to start a team? Fill out this form and let us know!"
Also from WAISN, this week there were reports of ICE action in Ephrata that caused widespread fear in the Grant County Courthouse. Please take action.
Gethsemane Lutheran Church and Sanctuary Downtown Seattle supporters gathered this week and continue to support Jose Robles and his family while he is in detention. Contact them to support that effort.
We will continue to add resources you can use in your efforts at our NEW ADVOCACY TOOLKIT page, scroll down to immigration resources. Thank you for all you're doing!