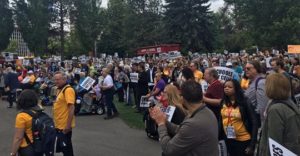 This year's General Assembly met in June in Spokane, Washington. While this GA, themed the "Power of We," contained all of the usual inspiring elements, the feel of this GA was palpably different.  New, younger and more diverse leadership at the helm of the UUA (and fewer hours in plenary business meetings) allowed centering on deeper discussion of what we want in the future of Unitarian Universalism.
Some of music and the language at this GA spoke of a "great turning" in our denomination to include all those who are drawn to our faith tradition — lifting up of individual human worth (Unitarianism) and proclaiming the importance of reconciliation (Universalism).
Personally, I was moved to tears by Richard Blanco's poetry at the Ware Lecture and fundamentally encouraged by the evident passing of the torch to younger leaders.  Interestingly, the top leadership of the UUA board and staff all appear to be lifelong UUs brought up with UU values and principles.  They also appear highly skilled and determined to see these values and principles institutionalized more fully at the UUA and encouraged in our congregations.
Other news of note included: a start at revamping of UU youth programing, completion of the campaign to provide financial support for BLUU (Black Lives of Unitarian Universalism), honors for CB Beale and Mark Morrison-Reed, and wide discussion of the report of the Commission on Institutional Change.
John Hilke, JUUstice Washington Board