Director Katrina Browne, (a descendant of the DeWolfs, the largest slave-trading family in U.S. history) and her relatives set out to face the facts — and themselves — as they retrace the slave trade triangle from Rhode Island to Ghana, to Cuba and back. Traces of the Trade: A Story from the Deep North is Browne's spellbinding account of that journey. Special Guest Delbert Richardson will be giving us the opportunity to experience his National Award Winning American History Travelling Museum, an admirable assortment of artifacts that symbolizes the African experience in the Americas and Europe. Guest Facilitator: Elly DeWolf Hale, a descendant of the DeWolf family and participant in the film.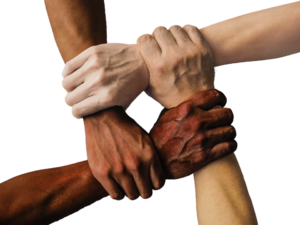 Traces of the Trade
Woodinville Meaningful Movies
18900 168th Ave NE Woodinville WA 98072 (Northshore UCC)
January 11, 2019
7:00 pm
"Traces of the Trade," an award-winning film premiered at the Sundance Film Festival, sets out to plumb contentious questions: What is the full story of the northern slave trade? What responsibility does white America bear for the past wrongs and contemporary legacy of slavery? Why is it so difficult for black and white Americans to have this conversation?
"What is our responsibility?" asks Browne. "I'm less concerned with understanding the extreme inhumanity of my ancestors than with understanding the mundane, ordinary complicity of the majority of New Englanders who participated in a slave-based economy. That issue had more parallels to me and my family today: well-intentioned white folks who are still part of systems that do harm. It's important to roll up our sleeves to deal with what we all inherited from our country's history."
"This is more than one family's painful reckoning. This is the nation's story — one that strips away the North's heroic mantle by revealing a broad pattern of Northern complicity in the slave trade." — Cecelia Goodnow, Seattle Post-Intelligencer
We will be exploring the issues around reparations and what it would take to move toward truth and reconciliation.
Sponsors: Northshore UCC – donates the use of their facility.
Facebook Page: https://www.facebook.com/tracesofthetrade/about
Youtube trailer: https://www.youtube.com/watch?v=32FVxLiXedw
We have an exceptional evening planned, I hope you can attend. Free popcorn.
Donations gladly accepted.