5th Annual CUUSAN Conference 2019
Living Our Values, Building Our Movement
June 19, 9:30 AM to 4:00 PM
Doubletree Grand Ballroom I
322 N Spokane Falls Ct, Spokane WA
We are super excited to announce our keynote speaker at the 2019 CUUSAN Conference will be Chris Crass!! If you know Chris, you are freaking out with joy right now!  If you don't, you've got to get yourself to this conference! More
We are also collaborating with our friends and colleagues at JUUstice Washington – we're really excited about this conference and hope you can come!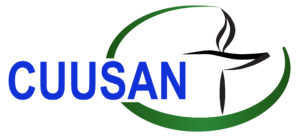 We need you to REGISTER, please
Chris is an author, organizer, anti-racist educator, father and so much more! He has published a number of incredible books, his most recent being, "Towards the Other America, Anti-Racists Resources for White People Taking Action For Black Lives Matter" (Download a free book and discussion guide on his website!)
Building a justice focused movement together that values the worth and dignity of all people requires dismantling white supremacy culture and centering relationship focused collaboration. In order to create the world we envision, we need to be bold. We need to understand the power that is working against us and build grassroots networks that amplify our collective strength.
Getting to GA – Cost Cutting Options

1. Are you close enough to road trip to GA?  Want a road trip buddy to share expenses?  Let us know on the registration form
2. Want to share a room at GA?  Let us know on the registration form.  You could share a hotel or Airbnb room
3. The CUUSAN conference is free!  It's paid for through our CUUSAN dues!  It includes breakfast and lunch. (Yup! we're giving you lunch this year!)
4. GA Registration – now open, you can save money by volunteering at GA or only going to part of the event.  GA Information can be found here
5. Need to fly?  Make your decision to come and start shopping for airfare options now!
General Agenda
Morning Worship: Rev. Amy Moses-Lagos (WA)
Keynote: Chris Crass
Skills Deepening, shared exercise
Lunch
Annual CUUSAN business meeting *
PechaKucha (exercise to get to know the work of our SANS)
Closing exercise/worship
Networking time/Relationship Building
Action Items:
1. Come! and please be sure to Register
2. Create your slides for the PechaKucha (click link below, which will ask you to make a copy of the file (you'll be prompted, just click). Then, send Laura Wagner your slides (when done, click "share" button on right, copy the link and send it to me)
https://docs.google.com/presentation/d/1rAq1KDzdVvXanYZXWXgFxjmSfTaDT6H3KbkAXqVNK9U/copy?usp=sharing
Even if you're not coming, please send us your slides! Someone will share your work for you!