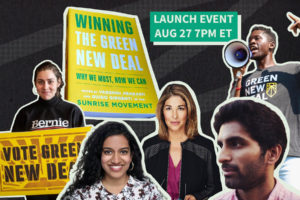 It's finally here. WINNING THE GREEN NEW DEAL is out in the world today! If you haven't yet picked up a copy, you can get one here.
I am so excited to share this book with everyone. Guido and Varshini worked very hard to gather brilliant people together and make this the definitive guide for what the Green New Deal is, why we need it, and how we win it. This book is a chance for us as Sunrisers to reground in what we've been working toward and an opportunity to invite others into the movement in a new and exciting way.
With fires raging in California, the hurricane devastation in Iowa, Jacob Blake fighting for his life after being shot by cops, and the Republican National Convention flaunting their fascist aspirations, the wisdom shared in this book feels more vital now than ever. The essays and stories about the climate crisis and its link to racism and capitalism meet the urgency of this moment in a way I hope will stoke the fire under all of us as we continue working toward a Green New Deal.
Don't forget to spread the word to your family, friends, and coworkers and let them know they can buy a copy here. If you love the book, consider leaving a review wherever you purchased it—it's one of the most important things you can do to help spread awareness.