When: Sunday, September 15, 2019, 6:30-8:30 p.m.,
Where:  Woodland Park Presbyterian Church, 225 N 70 St, Seattle – Near #5 bus.
Karen Schneider will recount her experience with Project Pilgrimage in October 2017 as she visited historically significant sites in the Deep South from the Civil Rights Movement of the 1950's and 1960's. and met and travelled with  surviving "foot soldiers" from that era.  Project Pilgrimage builds interracial and intergenerational community in Washington and beyond by studying, understanding and gaining inspiration from transformational movements and individuals.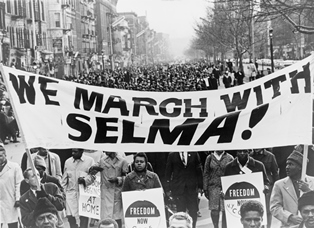 All are welcome!  Free, an offering will be taken.
Info 206-789-5565 or wwfor@wwfor.org

Karen retired from working with families in transitional housing with Compass Housing Alliance and continues to advocate for issues around homelessness and poverty.  A long-term FOR member, Karen is active with the Washington Poor People's Campaign: A National Call for Moral Revival, https://www.facebook.com/WashingtonPPC/.  She is very involved in anti-racist work with the "Breaking White Silence" project which seeks to raise white people's awareness by facilitating study groups using Robin DiAngelo's book "What does it mean to be white? Developing white racial literacy."  She is also a member of the Citizens Climate Lobby.