Summit Program Schedule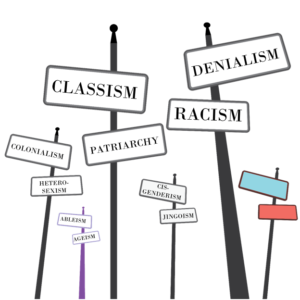 Saturday, October 12, 2019
7:30 am – 5:15 pm
Olympia UU Congregation
2315 Division St NW, Olympia, WA 98502
Download the Brochure
Register today!
Accommodations, events, childcare, food
Summit Speaker and Panelist Bios
Registration & Light Breakfast
7:15 - 8:30
Justice Fair & Exhibits Set-up 7:00 - 7:30
Justice Fair - Intersectional Programs that Work
7:30 - 8:30
Grab breakfast and tour the building to "visit" effective congregational justice projects and presentations by Meaningful Movies Project and Backbone Campaign.
Welcome, Worship, and Charge to Us All
8:45 - 9:15
Rev. Mary Gear calls us to work, with inspiring words, music, and a challenge for this day and year.
Intersectionality: Challenge and Invitation
9:15 - Noon
Ruth Idakula and Rev. Deanna Vandiver offer faithful grounding and spiritual practices for our intersectional lives, as they bring forward lessons learned post hurricane Katrina. Includes breakout workshops and plenaries.
| | |
| --- | --- |
| Lunch & Exhibits | Noon - 1:00 |
Intersectionality: Meeting the Challenge
1:00 - 2:30
Rev. Carol McKinley leads a panel including Mary Ybarra, Poor Peoples' Campaign; Steve Tilley, Justice Not Jails; Tim Ransom, homelessness, tiny houses; and Ivy Gentian, youth climate activist.
Breakout Sessions
2:45 - 4:00
Choose a session akin to your justice passions. Strengthen your planning by recognizing and addressing intersectionality.
*Economic Justice* including: Education, Health Care, Housing, Poor People's Campaign, Income/Wage, State Bank, Taxation, Wealth, Disparities due to systemic oppressions, and more.

*Environmental Justice* including:
Agriculture, Climate Change, Climate Justice, Indigenous Rights, Fossil Fuel Projects, Extractive Industry Projects, Displacement and Forced Migration, Industrial Pollution, Rights of Nature, Rights to a livable planet, and more .

*Justice Systems* (Civil & Criminal) including:: Affirmative Action, Black Lives Matter/Movements for Black Lives, Immigration, Criminal Justice Reform, Detention, Human Rights, LGBTQ Protections, Mass Incarceration, Migration, Refugees, Restorative Justice, Treaty Rights and more .

*Democracy Imperiled* including: Balance of Power, Citizen's United, Constitutional threats, Election Interference, Free Speech, Gerrymandering, Right to Protest, Rise of Police State, Voter Registration/Suppression, Voting Systems, Voting Rights (felons), and more .

Advancing Justice in Our Intersectional World
4:15 - 5:00
Juan Alaniz, Diversity, Equity and Inclusion Manager for WA State Health Care Authority and Chair of the WA State Latino Leadership Network will be our barnburner keynote speaker.
Closing Worship & Song
5:00 - 5:15