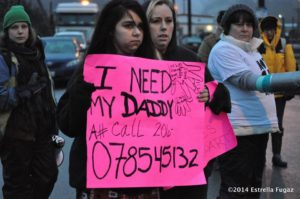 Faith Action Network supports the ad hoc coalition for a Constellation of Lights for Liberty to organize vigils locally and nationally this week in solidarity with immigrants and refugees. We invite you to hold vigils across the state in your faith communities this coming Friday night, June 12, or join a pre-planned vigil. Please register your vigil and share the Facebook page so people in your community know where to find the vigil closest to them. Consider including an action opportunity as part of the resolve of your vigils — take up a collection of postcards to your Congresspersons or make time for people to email during the vigil. If you're nearby, on Saturday June 13 travel to the Northwest Detention Center at 12:30 PM for a family-friendly event to support detained persons and learn how to do more. Join a Close the Camps rally being planned for Seattle and beyond. Let us know your plans at FAN@fanwa.org so we can highlight your place in the constellation.
Go to bottom of the post, Washington state vigils.
End Cruel & Inhumane Detention: Stand Up for Immigrants
Host a "Lights for Liberty" vigil against detention July 12th, 7pm
Encourage support and help for immigrants and detained persons in your community.
Find out more and register your event at www.lightsforliberty.org. Follow on Facebook or Twitter@lights4liberty.
After the vigils, the coalition seeks to activate and empower participants to:
Take action in your community to support detained persons, whether that be at the Tacoma Northwest Detention Center, being a witness to ICE flights and deportations at the Yakima airport, or wherever detention is happening in your community.
Get trained by immigrant rights organizations as a volunteer to respond to deportation efforts and other roles to help those at risk.
Financially assist detained persons to meet their bonds so they can fight deportation from the safety of their community or family. (FairFightBondFund.org)
Advocate for fair enforcement of the Keep Washington Working Act. FAN is committed to seeing this important bill implemented as law across our state. Please download and sharethis one-page resource in English and Spanish in your communities—have copies available in your faith community and workplace.
…and more actions to come.
Let us know if you need any assistance as you prepare your vigil and action steps! Thank you for your advocacy and vigilance as we stand against inhumane detention and support immigrants and refugees in our communities.