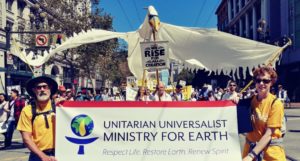 Beginning in Portland with the Juliana v US appeals court hearing on June 4th, I have been on a speaking tour visiting UU congregations with Levi Draheim, the youngest plaintiff in the Juliana v US lawsuit and a Florida UU, and Leonard Higgins, the "valve turner" and UU Ministry for Earth Board Member. After two weeks of touring through Oregon and Washington, we made our way to Spokane, Washington, where UUMFE had a phenomenal General Assembly experience.
Read more about our journey in the following four blog posts:
Speaking Tour Update #1 – The Juliana v US hearing & rally in Portland
Speaking Tour Update #2 – A Whale of a Time in Oregon
Speaking Tour Update #3 – Winding Through Washington
Climate Justice highlights from GA 2019
UUs have been giving generously throughout this tour and at GA, and we are now just $2,330 away from reaching the $10K fundraising goal.
There are just 2 days left to reach this goal — the campaign ends on Thursday, July 4, 10:55 pm Eastern.
Can you make a donation today to catalyze the UU Climate Justice Movement?
Faithify is a UU crowd-funding platform where the campaigns are all-or-nothing — meaning that pledges will only make it to UUMFE if we reach the $10K target. Please give generously and pass along this message to others in your UU community. Funds raised will support the following climate justice convergences taking place this summer:
August 4-9th – "Climate Justice: Extending our Reach" program at The Mountain Retreat and Learning Center in Highlands, NC will be an important time for in-depth learning and relationship building for the UU climate justice movement. Funds donated to this campaign will support 3-5 UUs of color and young UUs to attend this program.
August 22-26th – The InterNātional Initiative for Transformative Collaboration grassroots gathering "For Generations to Come" will be an inter-cultural, inter-faith convergence for peoples of all Nations – friends, allies, & relatives in the Sacred Black Hills (Paha Sapa). This gathering is an effort manifesting through years of relationship building and collaboration between UUs, Indigenous frontline community members, and partners, based upon an invitation into the partnership that emerged at the Standing Rock Oceti Sakowin Camp. This will be a transformative and invaluable experience; funds donated will support UU partnership and participation in this effort.
September 15-17 – A strong UU coalition is hosting a program in Washington, DC focused on the Green New Deal and its underlying goals of creating economic justice and climate justice. A Green New Deal would create a necessary pathway for a Just Transition to an ecological civilization. The event will include worship, workshops, a keynote speaker, and an advocacy day on Capitol Hill. Hosting coalition partners include UUs for Just Economic Community, UUs for Social Justice, UU Ministry for Earth, UU Service Committee, All Souls Church Unitarian – D.C., and the UUA. Funds raised will support UUs of color and young UUs to be part of this program.
Thank you so much for helping UUMFE Catalyze the UU Climate Justice Movement!