Dowd and Barlow are very popular among UU congregations all across the U.S. as they have managed to weave science and religion together into a coherent thought. There are still opportunities to engage these speakers. More info at:  http://www.thegreatstory.org/itinerary.html.  Also, here is a link to some of the reviews Dowd and Barlow have had from UUs and other faith groups:  http://michaeldowd.org/endorsements/uu/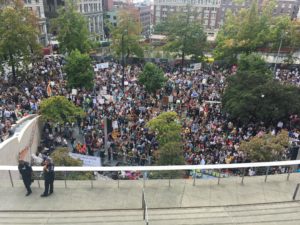 The climate strikes of September 20, 2019 involved millions of people all over the world: at least 900 strikes in the U.S. and more than a dozen in Washington State. In Seattle, the largest strike in Washington involved more than 5000, including 2000 from Amazon who converged with those coming from Capitol Hill to city hall. Signs carried by marchers included "Our Children's Future," "If you don't act like adults We will," "Act now or swim later," and "Not the hot girl summer I had in mind," based on an internet meme. Speakers at city hall emphasized the urgency of the crisis and called for zero emissions by 2030. Just prior to the strike, CEO Jeff Bezos of Amazon said that the company would try to reach zero net emissions by 2040 but his employees demanded faster action.

Continue reading→
O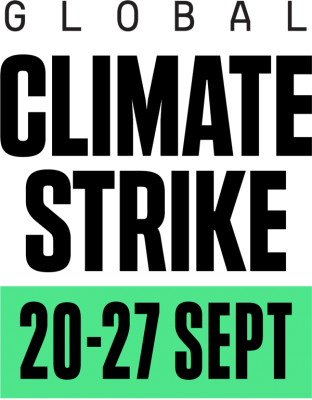 n Sunday, September 22, MoveOn is joining with other #StrikeWithUs partners to host a national organizing call to hear from climate action leaders, including the youth activists who have led the strikes, about what we can do next. Click here to RSVP for the Climate Crisis National Organizing Call to learn about actions you can take in the weeks and months ahead to build off of the Climate Strike and keep up the momentum. The call will be at 8:30 p.m. ET/5:30 PT. Just click here to RSVP. You can participate on Sunday from any device with the internet by going to the RSVP page—where you will get immediately plugged into more actions to take to fight the climate crisis. Climate change is a dire crisis that demands urgent, large-scale, collective action at the community, state, regional, national, and global levels. We are seeing a movement emerge that is growing in political strength—forcing political candidates to talk in-depth about climate justice in ways they haven't before and forcing corporations and local governments to act. On this call, you'll learn about some of the opportunities to take action following this historic climate strike.You'll hear from:
Isra Hirsi, Executive Director of US Youth Climate Strikes and a leader in tomorrow's strike, about plans for future strikes and escalations;
Monica Mohapatra, from 350.org, about continuing actions around the country next week as part of an entire week of action on climate justice;
Jon Barton, Deputy Director at the Service Employees International Union, on how to get engaged locally;
And more!
Please click here to register for Sunday night's national organizing call and join thousands of participants across the country preparing to take further action on the climate crisis.
Continue reading
Backbone Campaign is moving our normal Monthly Organizing Call date up a bit in anticipation of the Global Climate Strike happening Sept 20-27.
Please join us on the monthly call
 next Tuesday, Sept 10th, 5:00-6:00 PM PDT/8:00-9:00 PM EDT
RSVP HERE
We are focusing this call on actions surrounding this Climate Strike and are excited to announce the guest speakers we have lined up:
Her work focuses on building an inclusive movement in support of climate action. Keya's commentary on climate change policy and sustainability issues has been quoted in dozens of media outlets including 
USA Today
, the 
New York Times
, 
Fox News
, the 
Associated Press
, 
The Washington Post
, and 
NBC Nightly News
.
Keya brings extensive experience in key positions, not limited to:
Senior Director for Renewable Energy and Footprint Outreach at the World Wildlife Fund (WWF), Climate Change Specialist at USAID, NASA HQ communicating research results on climate change.  Keya received her Master's degree in Environmental Science, and her Bachelor's in Environmental Science and Spanish from the University of Virginia.  More extensive bio available 
HERE
Kaela Bamberger
- 
Extinction Rebellion D.C. Chapter 
-  
Shut Down D.C. Strike Coalition
  She is an organizer with Extinction Rebellion DC as well as the US National Team. By day she researches the true costs of fossil fuels with Oil Change International; by night she advocates and organizes for NVDA as a crucial tool to achieve climate justice. She abandoned a path in academia after realizing that nothing more needed to be written – 
now is the time to act.
We are excited to help get everyone ready to engage in the coming weeks, and we look forward to seeing you on the call; be sure to 
RSVP
 and if possible join on a computer or with video so we can see each others' beautiful faces to help build community.
ALSO Backbone is organizing light projection in multiple cities across the US, to support the Climate Strike.  In addition to joining us on the Call, please contact us ASAP if you:
Continue reading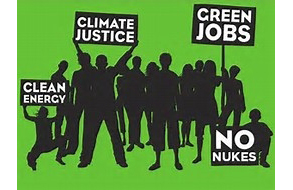 Get your congregation involved in the Climate Strike! Reach out to your minister and worship planning team and share these Climate Strike worship materials curated by Rev. Peggy Clarke. Reach out to your church board, to your social justice and environmental committees — this is a time to bring our UU community and values out of the pews and into the streets! (The link has suggestions for order of service, sermons, readings and hymns.)

Continue reading→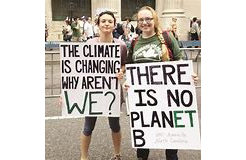 Sixteen-year-old climate activist Greta Thunberg asks this question, and we're asking people of faith to respond. We UUs know that all that exists is part of an interdependent web. What we do matters. We must show up for each other now. Are you ready to demand a just and sustainable world? A right to a future for our youth and young adults? Sign up here for the Sept. 20th Global Climate Strike and Week of Action by locating an event near you and you will be in touch with local organizers. This information will also be shared with us so that we can mobilize UUs as powerfully as possible. On September 20, three days before the UN Climate Summit in NYC, young people and adults will strike all across the US and the world to demand transformative action be taken to address the climate crisis. We know governments won't deliver climate action and justice on their own, so we're going on #climatestrike to show them what people power is capable of creating. The strikes are just the beginning of an escalated movement where millions will take to the streets to demand action now, especially for those most impacted by climate change who have done the least to cause it. Climate breakdown isn't inevitable. We know the solutions we need including a just transition away from the exploitative fossil fuel economy. We're inviting you to join other UUs and faith groups and millions more -- we have the power to make them happen. Here's what's already happening among UUs:

Continue reading→