This Call to Arts from UU Ministry for Earth (UUMFE) is an invitation to honor the Web of Life on Earth in community, through artwork. It is a resource for you to begin conversations and create experiences in your community or congregation that can shift paradigms, goals, and values.
The artwork that you make locally will become a part of a "Procession of Species" created by Unitarian Universalist communities across the entire Association. The first "Procession of Species" will be at the General Assembly coming up June 19-23, 2019, with UUMFE and Rev. Bonnie Tarwater of the Church for Our Common Home. The Procession will continue to grow and manifest throughout 2019 and 2020, culminating again at the General Assembly in 2020.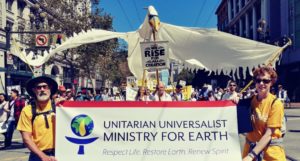 Please join the procession of species! Now would be the perfect time to begin these conversations and share this invitation with other UUs in your community — May 17th is Endangered Species Day and May 22nd is World Biodiversity Day.