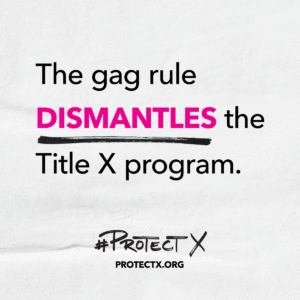 Planned Parenthood was forced on August 29th to withdraw from the Title X family planning program.
The administration's nationwide gag rule is destroying Title X, the nation's only dedicated program for affordable birth control and other essential reproductive health care — and for the first time in nearly 50 years of the program, Planned Parenthood is out of Title X. Health care access is now at risk for those struggling to make ends meet — and Congress is our only recourse.
Make no mistake, the gag rule is an attack on the patients who rely on Planned Parenthood. That's because Planned Parenthood health centers serve 41% of the 4 million patients — or more than 1.6 million people — who get care through the Title X program.
In many communities, Planned Parenthood is the only source of reproductive health care. When patients can't seek care from Planned Parenthood, many will have nowhere else to go and community health centers themselves say they couldn't fill the gap. Many people will delay getting health care or simply go without it altogether.